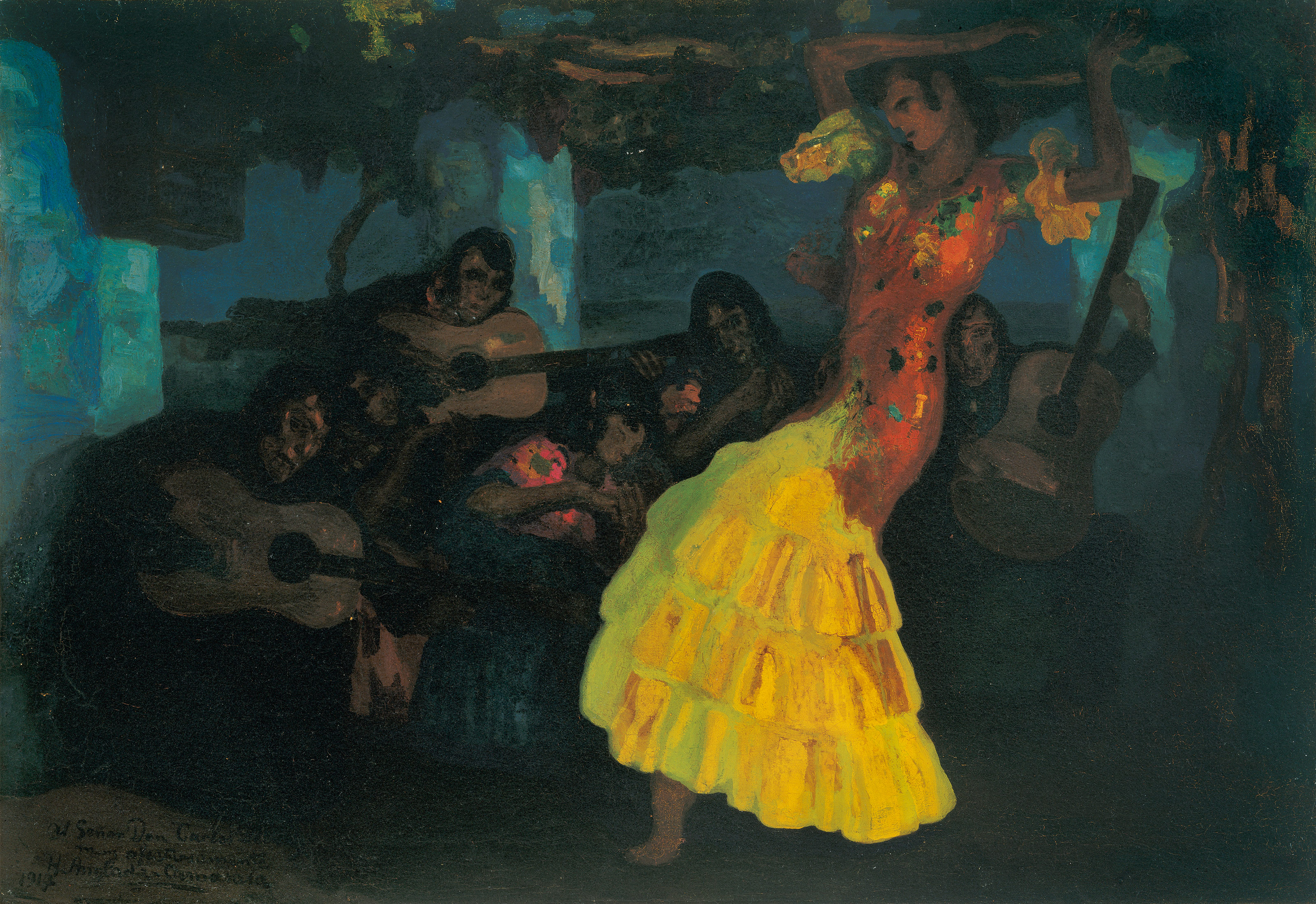 Gypsy Dance
c. 1914-1921
Oil on canvas

71 x 101 cm

CTB.1995.30

© Colección Carmen Thyssen-Bornemisza en préstamo gratuito al Museo Carmen Thyssen Málaga
While residing in Catalonia, Anglada-Camarasa preferred painting landscapes and does not appear to have had any special connection with the gypsy world. In 1894, he moved to Paris (where he would spend the most crucial twenty years of his life) and it was there – not in Spain – where he came into contact with that world which would provide him, at least from 1901 on, with one of the most typical and oft-repeated themes of his career.
Almost from the time when he became a worldwide success, Anglada, for whom painting was always much more an exercise in artistic self-indulgence than an attempt to convey ideological messages, alternated scenes of Paris nightlife with others of gypsy dances. The former gave rise to a special delicacy and light tones in the artist's personal version of Post-Impressionism, while the latter allowed him to capture a frenzied, expressive dynamism with warm, explosive colours.
That Paris on the threshold of the new century reserved much of its attention for the exoticism of hackneyed Spanish themes. Since the sensational reception of John Singer Sargent's oil painting El Jaleo by the 1882 Salon, themes connected with flamenco dancing enjoyed a special attraction in Paris, where literary and artistic Romanticism had fixed very especially on the typically Spanish. El Jaleo (Isabella Stewart Gardner Museum, Boston) not only made the theme fashionable but gave rise to a type of composition that was exclusive to it – with the flamenco dancer in the foreground, slightly off centre, in front of the guitarists and palmeros sitting next to each other, like a backdrop to the scene.
In his more ambitious interpretations of this theme – such as Spanish Dance (1901, formerly in the Morozov Collection, today in the Hermitage, Saint Petersburg) – Anglada created original, complex compositions. However, in smaller-sized versions, like this one in the Carmen Thyssen Málaga Collection, he almost always reproduced a compositional arrangement derived from Sargent's El Jaleo.
Dating this painting is not easy, as Anglada often painted similar themes throughout his entire career: not only in Paris, but also when he was living in Mallorca (1914–36) and in exile in France (1939–47). However, in this last period in France, he painted such pictures in a formulated manner, perhaps due to the financial difficulties of living in exile, and so repeated an old recipe he knew would guarantee success there.
The central figure in this composition was clearly inspired by sketches of flamenco dancers drawn from life in Paris around 1910–11, and the guitarists are like clones of those in El tango de la corona of around 1910. Because of this and the thickness of the paint (typical of his years in Paris, although it ultimately led to serious cracking), and the dedication to Charles Deering (who died in Miami in 1927), the American financier and friend of the Catalan Modernists, this painting should be dated in the artist's younger days rather than his maturity. I am inclined to think that it was acquired by Deering when he was most active in Catalonia, gathering ancient and modern works of art for his residence Mar i cel in Sitges, and when Anglada was no longer living in Paris and was again in close contact with the Catalan art world. In that case, the work would have been acquired by Deering between 1914 and 1921, when the millionaire had lost interest in Mar i cel and sent most of his excellent collection to the United States, with the exception of a few works – including this one – which he transferred to his castle at Tamarit, situated by the sea near Tarragona.
Francesc Fontbona