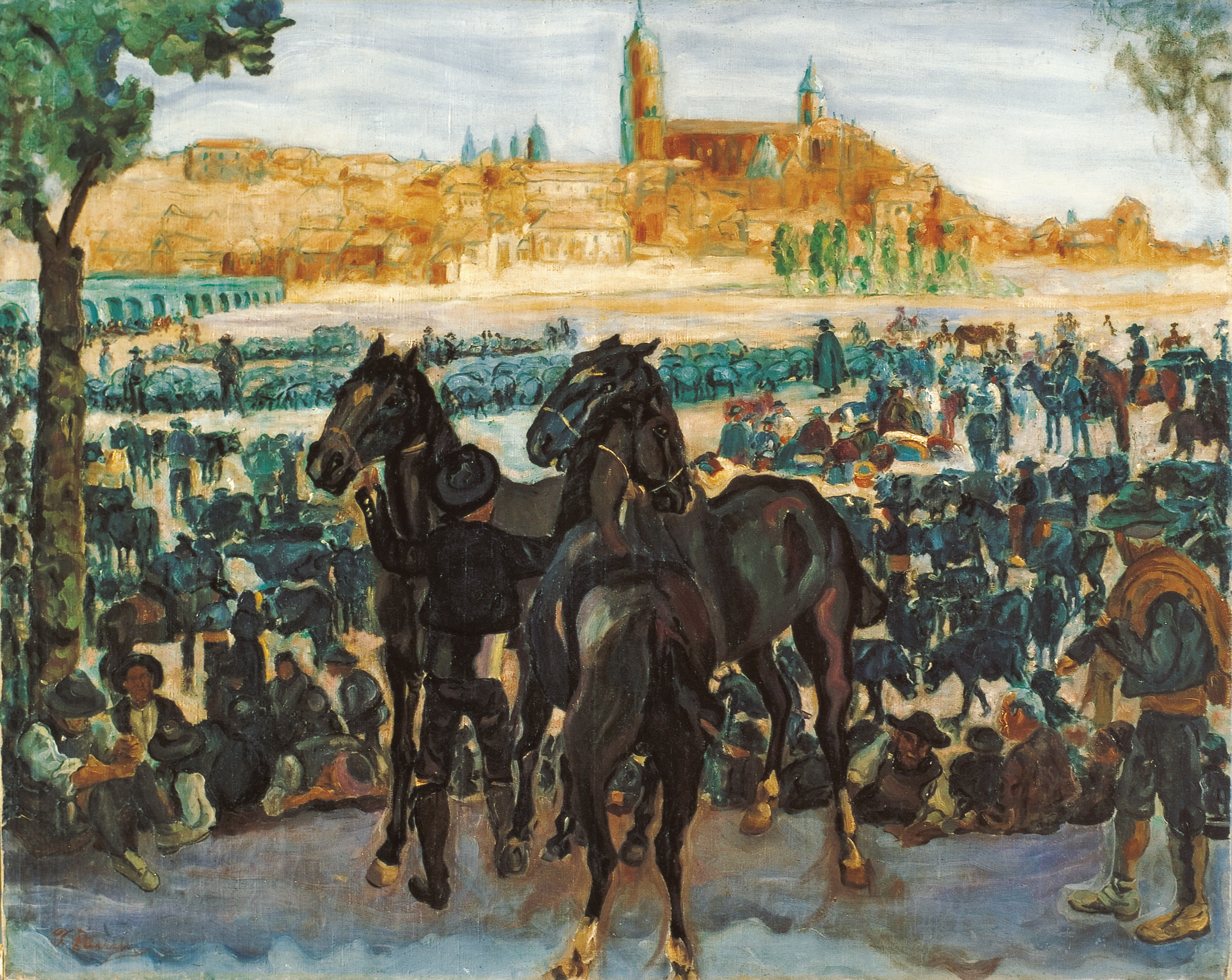 Cattle Fair in Salamanca
c. 1898
Oil on canvas

95 x 120 cm

CTB.2009.6

© Colección Carmen Thyssen-Bornemisza en préstamo gratuito al Museo Carmen Thyssen Málaga
Although Francisco Iturrino was born in Santander, his family moved to Bilbao in 1872. There, at fifteen years of age, he began studying drawing at an academy and also took lessons from his maternal uncle, the musician, poet and painter Elviro González. In 1883 he went to Liège (Belgium) to study engineering, but soon turned entirely to painting. Seven years later, he moved to Brussels, where he studied painting at the Académie Saint-Josse-ten-Noode and met Marie Joséphine Delwit Schwartz, of Flemish origin. They were married in Cordoba in 1906 and were to have six children.
In 1895 Iturrino embarked on the "nomadic" path that was to characterise his life. For some time he settled in Paris and attended Gustave Moreau's (1826–98) workshop, where he met Henri Matisse (1869–1954). In 1897 he returned to Belgium and one year later travelled to Ledesma in the first of what was to be a number of visits to the province of Salamanca (where in 1904 he struck up a friendship with Miguel de Unamuno). In 1899 he moved permanently to Paris and between 1901 and 1911 took part in numerous exhibitions in the French capital: the Salon des Artistes Indépendants (1901); the Société Nationale des Beaux Arts (1901); the Galerie Ambroise Vollard (with Pablo Picasso in 1901, 1902, 1904, 1907 and 1911); the Salon National des Beaux Arts (1902); the Société Moderne des Beaux Arts (1902); the Galerie Berthe Weill (with Manuel Losada, Isidro Nonell, Ignacio Zuloaga and Pablo Picasso); and various Salons d'Automne (1903, 1904, 1905, 1906 and particularly 1911, when a whole room was devoted to his work). During that time he was also invited to take part in various editions of the Bilbao Modern Art Exhibitions (1902, 1903, 1905 and 1910) and the Salon de la Libre Esthétique in Brussels (1902, 1904 and 1914). Between 1904 and 1910 he spent long periods in Cordoba and Seville, where, thanks to the influence of the great masters of Impressionism and Post-Impressionism, including Édouard Manet, Paul Cézanne, Paul Gauguin and Vincent van Gogh, his language of form and colour developed into a personal representation of Andalusian life, bathed in the light and colours of southern Spain. In late 1910, he met Henri Matisse in Seville with the ultimate aim of travelling (early in 1912) to Morocco. From 1912, his work was exhibited by the Association of Basque Artists in Bilbao (1912 and 1915), Madrid (1916) and at the Galerías Laietanas in Barcelona (1916, 1917 and 1918). He received the recognition of major international historians and critics of the day, including Élie Faure (in an article published in L'Art Décoratif, 20 August 1912) and Gustave Coquiot (who devoted a chapter of his book Cubistes, Futuristes, Passéistes – 1914) to him.
In 1913, his wife was admitted to the Santa Águeda de Mondragón psychiatric hospital and the artist withdrew on various occasions to the Echevarría-Echavarrieta family's La Conception estate in Malaga, where he painted numerous pictures of the tropical garden. In 1918 he settled in Madrid and in 1919 presented those landscapes at a solo exhibition at the Madrid Circle of Fine Arts. In Madrid he often attended the gatherings of his friend from Bilbao José María Soltura at the Gato Negro and those of Ramón Gómez de la Serna at the Café del Pombo. In 1920, gangrene developed in one of his legs and he underwent an operation at his Madrid home. Iturrino's health problems seriously affected his financial situation but he received aid from friends in Bilbao, including Eustasio Claudio Artiach, Eugenio Leal and the writer Francisco Ulacia, as well as the Santander-born painter José Cabrero, a close childhood friend. Through Élie Faure he was able to have two operations at the Hôpital de la Charité in Paris – where he was visited by André Derain, Henri Matisse and Pablo Ruiz Picasso – although one of his legs had to be amputated. In March 1922, Faure organised an exhibition to raise money for Iturrino at the Galerie Rosenberg in Paris. Twenty Iturrino canvases from Ambroise Vollard's collection were presented together with other paintings donated by painter friends. The proceeds allowed Iturrino to retire to Cagnes-sur-Mer in the south of France. There, until his death on 21 June 1924, he was cared for and aided by a group of painter friends, one of whom was Matisse.
Iturrino's painting Cattle Fair in Salamanca dates from his early years in Paris. A year after his return to Brussels in 1897, he travelled – probably on the advice of the French critic Gustave Geffroy (whose portrait Cézanne had painted in 1895) – to Spain and spent some time in Ledesma. During such visits he painted scenes of country life in the villages of Castile. Juan de la Encina wrote of him: "He lives in a semi-herding, semi-farming community. His house is in a strategic place: wayfarers, gypsies, alms collectors, beggars, acrobats, quacks, all pass by; herds, horsemen, farmworkers from neighbouring villages also pass by and, furthermore, the house overlooks the countryside and the blue mountain range. A painter's paradise!..." Throughout the whole of his artistic career, Francisco Iturrino composed versions or variations of the different themes recurrent in his work. From that period a large number of drawings and paintings depicting peasants at work, markets and village customs also exist.
Petra Joos