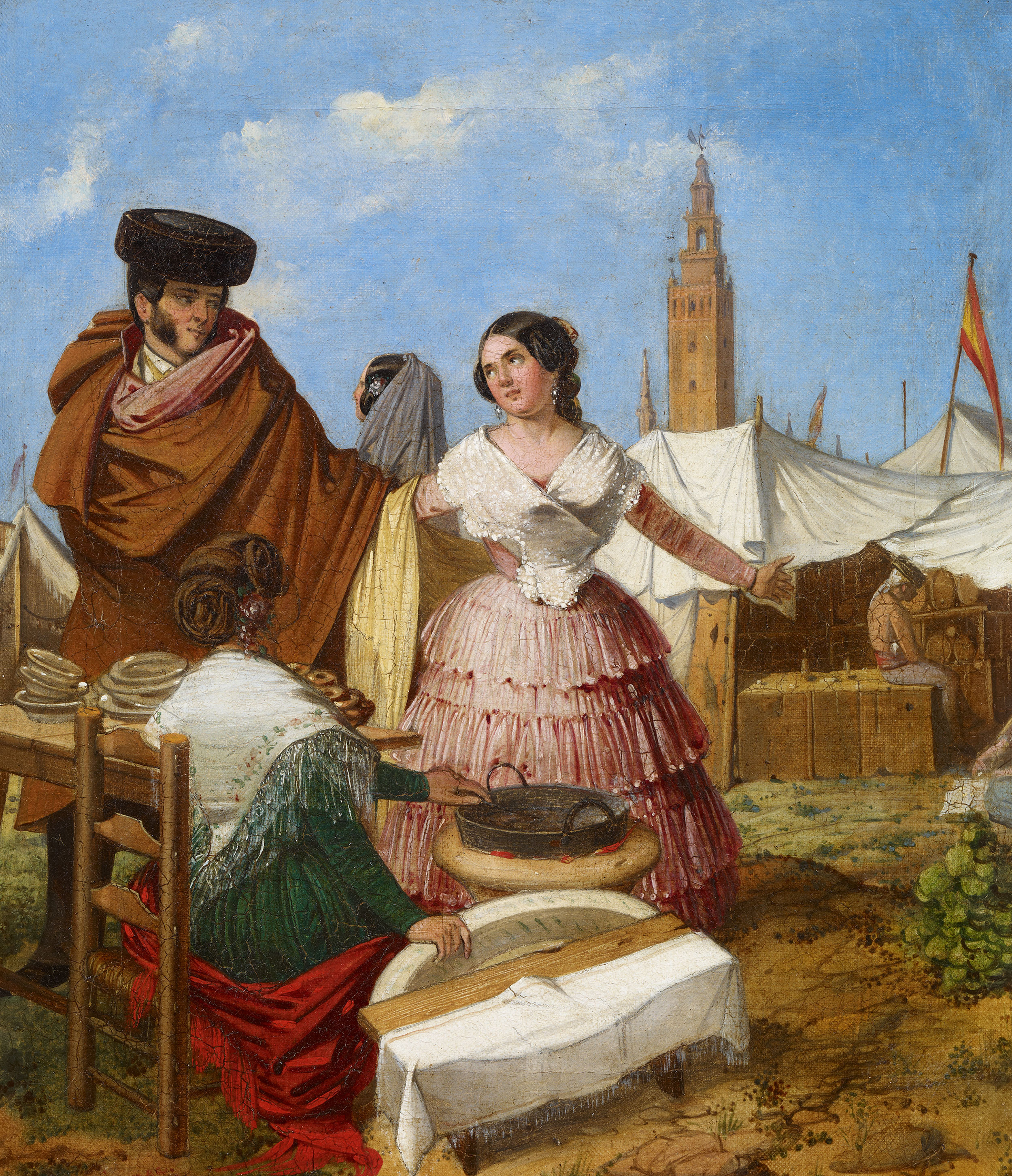 Courting at a Ring-Shaped Pastry Stall at the Seville Fair
1852
Oil on canvas

35 x 30 cm

CTB.1995.117

© Colección Carmen Thyssen-Bornemisza en préstamo gratuito al Museo Carmen Thyssen Málaga
The portrayal of nineteenth-century Andalusian customs, which in painting dates back at least to the previous century, is the artistic and cultural distinguishing feature of a region characterised by a lively, colourful picturesqueness in which rural tradition blends with the nascent bourgeoisie. The April Fair in Seville, a profane burst of spring joy following the austerity of Holy Week, had brought together both cultures since its establishment in 1847. Sevillian Romantic painters therefore found it an ideal mode of representation not only of local pride but also of the image sought by travellers who visited the city as tourists.
Rafael Benjumea belongs to the group of Sevillian painters active when Romanticism was at its height. Trained at the school run by the Santa Isabel Royal Academy of Noble Arts, where he completed various courses and won prizes, he soon took up painting Sevillian customs, embracing what had been a common practice since the early 19th century. This did not prevent him from also practicing portraiture, owing to his connections with the palace of San Telmo, the seat of the court of the Montpensiers, in whose service he produced genuine paintings of "contemporary history" in the manner of "pictorial reportages" that earned him fame and money.
Aware of the importance of representing the fair, the painter uses it as a conventional contribution to the numerous portrayals made not long earlier by the first generation of Romantic painters of Seville and preceding the later versions produced at the height of the regionalist movement.
Benjumea devised the scene with a popular focus, showing the festive atmosphere of the event which, both then and now, is enlivened by the singing and dancing and food and drink. He places in the foreground the classic trio of the street vendor in a fringed shawl sitting with her back to the viewer on a rush chair and offering rosquillas, ring-shaped pastries, to the young couple formed by the majo, who has long sideburns, wears a typical Andalusian hat with turned-up brim and is wrapped in his cloak, and the maja sporting a striking pink frilled dress and pale headdress. Visible in the background are various whitish marquees, in one of which a majo sits on a makeshift table among wine kegs. Outside, another vendor sells her wares sitting on the ground. The scene is topped by the red and yellow flag emerging from among the marquees and the elegant, slim Giralda that towers above them; both features are references to the nationalist character of Sevillian genre painting.
Gerardo Pérez Calero