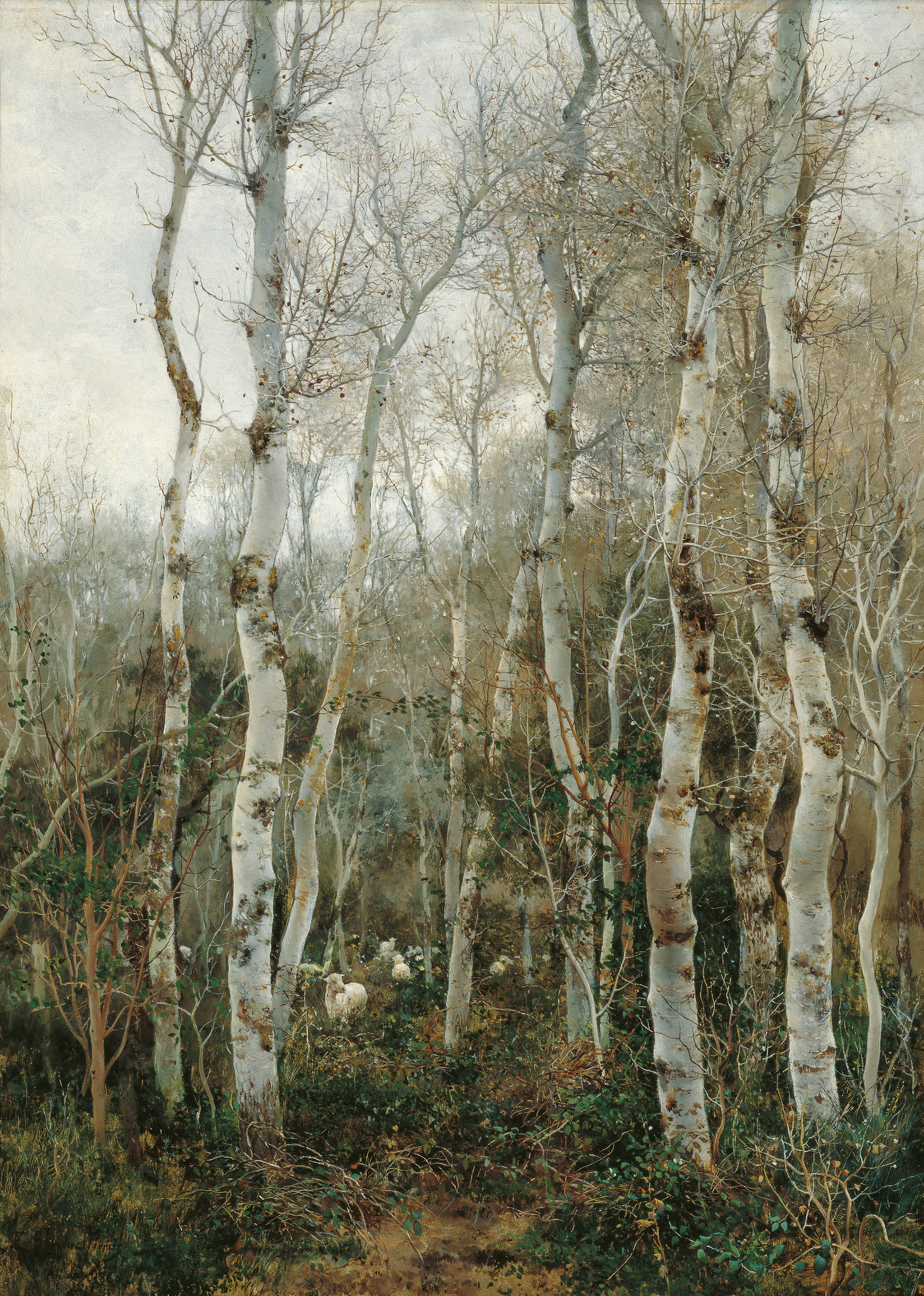 Winter in Andalusia (Poplars and Sheep at Alcalá de Guadaíra)
1880
Oil on panel

45 x 31.9 cm

CTB.1997.23

© Colección Carmen Thyssen-Bornemisza en préstamo gratuito al Museo Carmen Thyssen Málaga

Your browser does not support the audio element.
This interesting, delicate painting full of subtle and surprising observations of nature, depicts a scene in a leafless birch wood on a silent grey winter's morning. A gentle, moist, misty breeze from the background fuses nearby hillocks with the tops of trees displaying in detail the peculiarities of trunks and green areas in a confrontation of forms and rhythms of stark sensuality.
This exhaustive study of tree trunks and branches, sprinkled with shades of silver, contrasts with the lower part of the composition, where shrubs and brambles make the spot rather inaccessible. A flock of sheep grazes at the feet of the slender trunks, very probably near the bank of the Guadaíra, in Alcalá – a place of picturesque scenes linked by railway to nearby Seville (where the painting made its first signed appearance in 1880).
This picture is connected with Winter in Andalusia which, with Jardín del Alcázar de Sevilla ("The Alcazar Garden in Seville"), Sánchez-Perrier took along on his first trip to Paris to exhibit at the 1880 Salon. On that occasion, the critic Veron referred to the painting as: "A delicacy of vegetation that is very agreeable, as are the lambs grazing as if in spring. The birches and oaks are drawn with rare sensitivity. We would prefer a cooler, sadder note. But it is all one, for this is a pleasant, very delicate and accomplished winter scene."
Apart from displaying the artist's interest in capturing the effects of the seasons on the landscape, both paintings must have been successful and won the acceptance of the market, as is proved by entries in the diaries of the Paris agent G.A. Lucas (who frequently acquired works by Sánchez-Perrier during the painter's lifetime).
A year later, the artist returned to the Paris Salon with two more paintings – Huerta del Alcázar de Sevilla ("Alcazar Orchard in Seville") and Las últimas hojas ("The Last Leaves") – with variations on the same theme. Both also reveal a certain technical maturity in the twenty-five-year-old artist. Also signed in Alcalá in 1880, these two paintings may have belonged to the same series as the one to which this panel has been directly linked.
Juan Fernández Lacomba