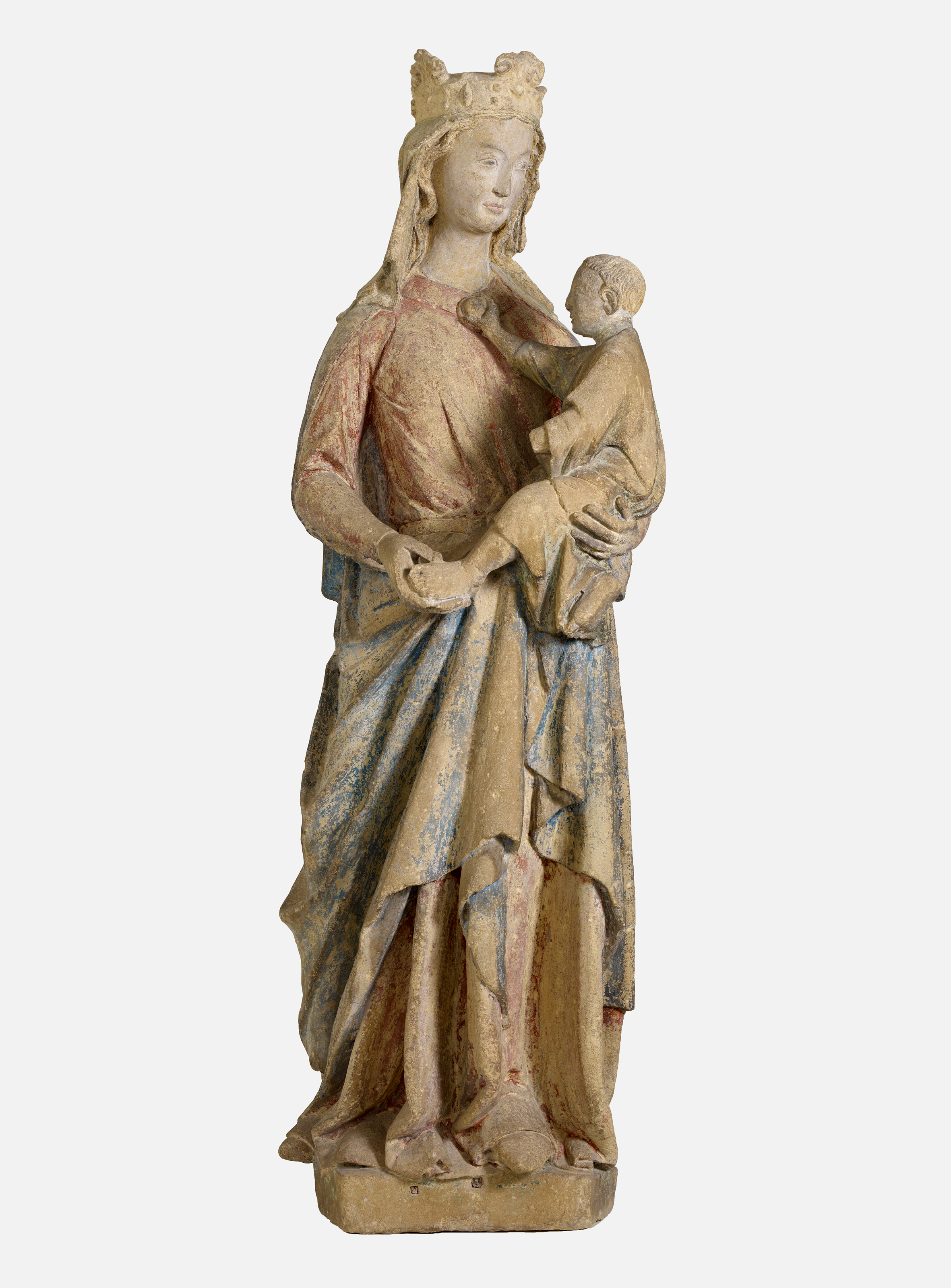 Virgin and Child
c. 1250-1275
Sandstone

181 x 60 x 67 cm

CTB.DEC1623

© Colección Carmen Thyssen-Bornemisza en préstamo gratuito al Museo Carmen Thyssen Málaga
The Virgin stands upright and frontally, on a small hexagonal base, holding the Christ Child on her left side. She wears a short veil on her head, held in place with a bejewelled crown, and she looks towards the Child. Around her shoulders is a long mantle which falls to the ground and is held in place with a strap at her neck, fastened by a bulbous agrafe. Underneath she is dressed in a belted gown. The Christ Child is supported by the Virgin´s left hand, while she holds his left foot with her right hand, and he reaches out with his right hand to touch the agrafe. He wears a long tunic. The Virgin's mantle and the Christ Child's tunic are blue with gilding and the Virgin's gown is red, although none of this visible paint is probably original (there are several layers of paint in places). The left hand of the Christ Child is broken off, but otherwise the group is in good condition.
This monumental group of the Virgin and Child has its closest affinities with the great trumeaufigures of the same subject on two of the most famous French cathedrals, Reims (west portal, centre doorway) and Amiens (the so-called Vierge Dorée). All three figures share the same stance, although the Carmen Thyssen-Bornemisza Virgin and Child is nearer to the Amiens figure with its heavy, crumpled drapery and rather stiff pose. The Vierge Dorée, executed between 1259 and 1269, has been shown to derive from Parisian models of the mid-century, and may well have been carved by a Parisian workshop. The Carmen Thyssen-Bornemisza Virgin and Child, showing a sweetly-smiling countenance and noble dignity, has also been influenced by the sculptures of the capital, but it shows obvious points of contact with sculpture of the Reims west portal, especially that of the so-called Joseph Master of about 1245–55.
The original context of this Virgin and Child is not known, but there is the possibility that it stood as a trumeaufigure, like the Virgins at Reims and Amiens. Notwithstanding our ignorance of its intended setting, the Sionviller Virgin and Child is a very rare example of a monumental sculpture from the period around the middle of the 13th century, the "High Gothic" era.
Paul Williamson