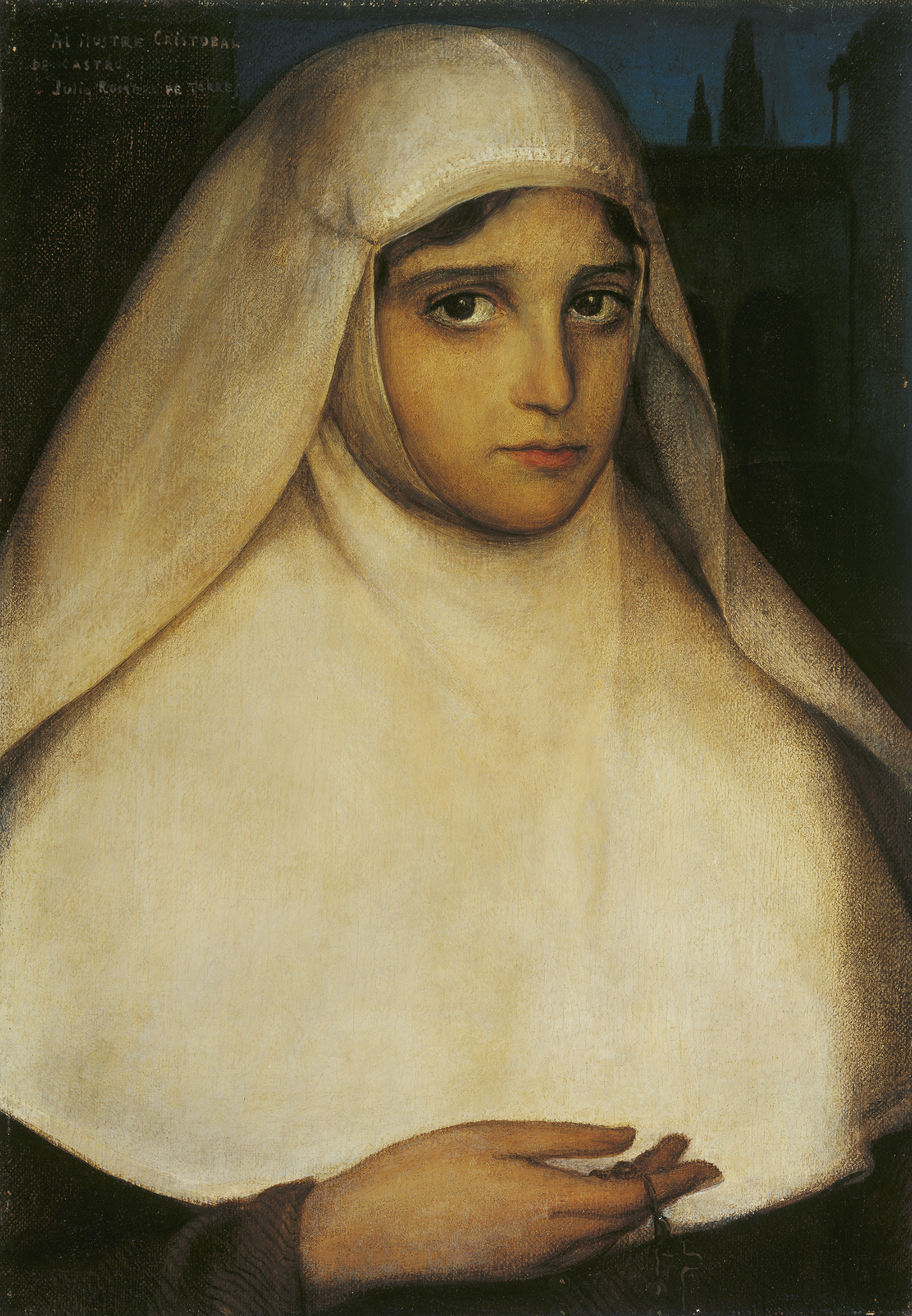 Nun
1911
Oil on canvas

50 x 35 cm

CTB.2001.2

© Colección Carmen Thyssen-Bornemisza en préstamo gratuito al Museo Carmen Thyssen Málaga
It was around 1910 when the fame which, years later, was to take Julio Romero de Torres to the very pinnacle as an artist began to arrive. However, his rising prestige was not endorsed by acclaim at that year's National Exhibition, since his award for The Gypsy Muse (Museo Nacional Centro de Arte Reina Sofía, Madrid) at the 1908 event was not to be repeated with any of the pictures he presented – even Altarpiece of Love (Museu Nacional d'Art de Catalunya, Barcelona), one of his most thought-provoking and symbolic paintings. Lack of official recognition caused the indignation of a group of more than one hundred intellectuals, whose written protest was submitted to the Ministry of Public Instruction by Cristóbal de Castro (1874–1953), the result being that in 1911 Romero de Torres was awarded the Order of Alfonso XII and appointed Inspector and Royal Curator at the Rome International Exhibition.
From Romero's dedication on this painting it seems logical that, in recognition of his friend, the writer, translator, politician and feminism pioneer Cristóbal de Castro (who wrote about the painter several times), Romero should dedicate this delicate portrait of a nun on the occasion of the latter's marriage that year. Castro and Romero de Torres's relationship was not limited to times of protest and support, but was to endure throughout the years. Proof of this are Romero's portraits of Castro himself, his wife (the actress Adela Carboné), and his son Horacio de Castro Carboné, as well as the correspondence with Enrique Romero de Torres when he was Director of the Cordoba Museum of Fine Arts.
It remains to be seen why the painter's wedding present to the writer was this Nun. It was a subject which at that time had spurred the master's interest, leading him to work on a large number of paintings depicting nuns, almost all Franciscans in black or white wimples – aesthetically unique, unfashionable iconography as regards the painters of the time. The interest in this theme and the repetition of the iconography have led these nuns to be regarded as a female archetype in Romero de Torres's work.
From La mística ("The Mystic") to Altarpiece of Love (1910) to Monjita ("The Little Nun" – Museo Julio Romero de Torres, Cordoba), which was unfinished at his death in 1930, Romero included novices and nuns in a number of paintings of those years, as for example Pidiendo para la Virgen ("Begging for the Virgin"), Las dos sendas ("The Two Paths" – Cordoba, Grupo Prasa), La niña de las monjas ("The Nuns' Girl"), La consagración de la copla ("The Consecration of the Couplet" – Cordoba, Grupo Prasa) or Grace (Museo Julio Romero de Torres, Cordoba), painted between 1911 and 1913. He returned to the motif in the suggestive Baño de la colegiala ("Bath of the Schoolgirl") of 1925 and La Virgen de los Faroles ("The Virgin of the Lanterns" – Museo Julio Romero de Torres, Cordoba) of 1928.
It is curious how nuns do not appear in the small number of religious pictures he painted – which include murals at the parish church of Porcuna, the Oriol family chapel in Madrid, The Magdalene (Museo Julio Romero de Torres, Cordoba) and Santa Inés ("Saint Agnes", Museo Julio Romero de Torres, Cordoba) – yet they are present in a number of other paintings with clearly secular themes or with titles with only vaguely pious connotations. In these compositions the nun is usually identified with mystical – rather than pious – love, in spite of a certain heterodox conception in works such as Altarpiece of Love or La consagración de la copla. Romero also chose that iconography for individual portraits clearly inspired by compositions from the Italian Renaissance, such as this picture from the Museo Carmen Thyssen Málaga, of 1911, or the one of 1930 in the Museo Julio Romero de Torres.
The composition is centred on a half-length portrait of a young novice against a neutral background with a rosary in her right hand. Repeated at upper right are some of the landscape and architectural elements of which the Cordovan master was so fond: cypresses and arcades in a courtyard with a small roof – evocations of the buildings and architecture of his home town that he so often included in his paintings.
Fuensanta García De La Torre