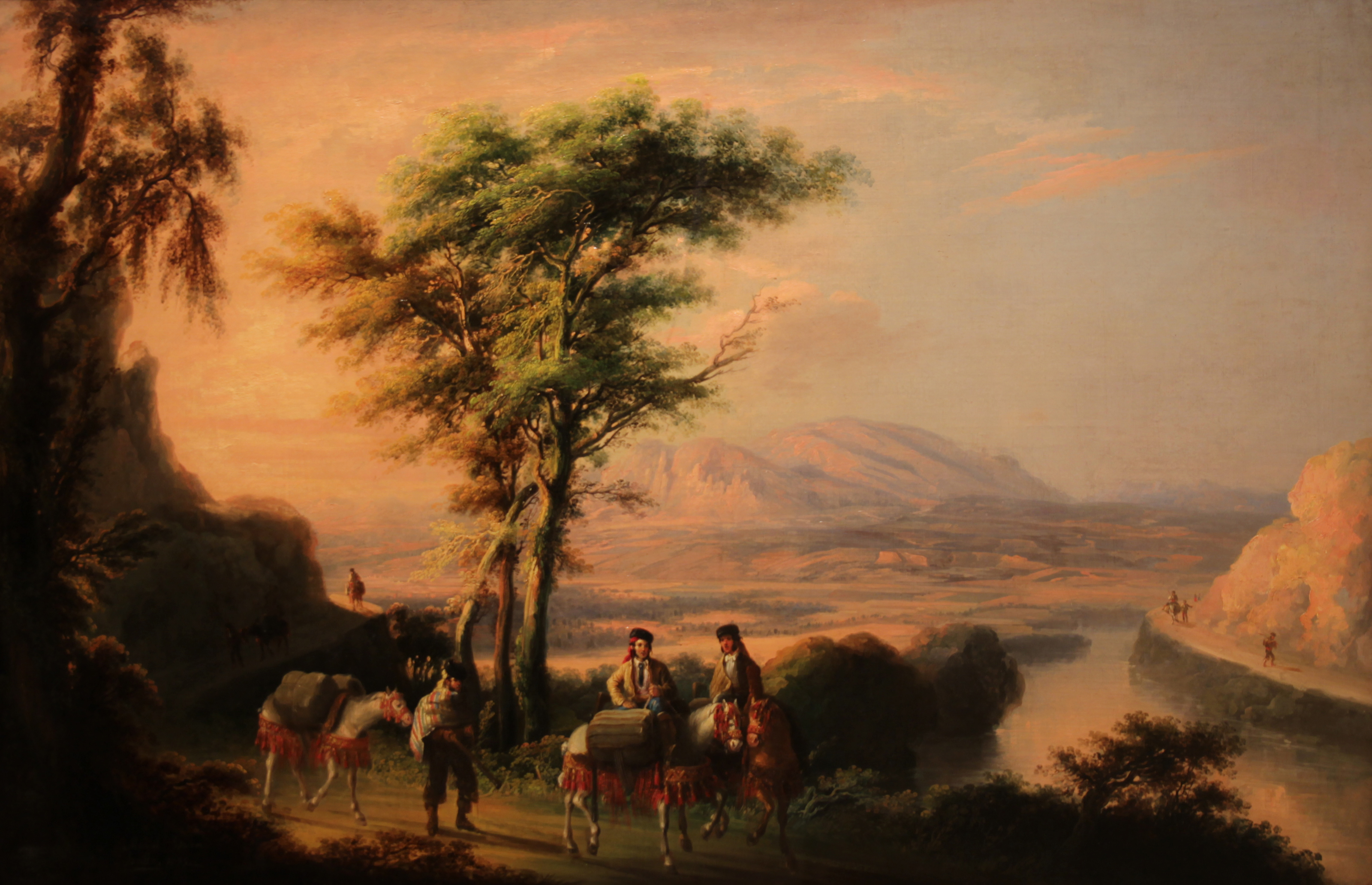 Landscape of Ronda with Bandits
1856
Oil on canvas

73 x 113 cm

CTB.2014.40

© Colección Carmen Thyssen-Bornemisza en préstamo gratuito al Museo Carmen Thyssen Málaga
Although urban views and rural surroundings of towns accounted for most of Manuel Barrón's output, another important part of his production consisted of mountainous landscapes of Andalusia with spectacular peaks and, between them, winding paths inhabited by bandits, smugglers and figures dressed in folk costume that imbue his paintings with a picturesque quality characteristic of the ideology of Romanticism. One of these prototypical landscapes is Landscape of Ronda with Bandits, which features the characteristic elements used by Barrón in these works.
In the foreground of the composition a pair of travellers on horseback engage in friendly conversation as they continue on their way. Following behind them on foot, a few metres away, is another figure wrapped in a thick blanket who must be their escort, as he holds a blunderbuss to ward off possible attacks by bandits, which were very common during travel in that period.
The atmosphere of serenity and calm extends to the rest of the composition. A pinkish, crepuscular light inundates the landscape, tinging it with a slight melancholy that reflects the influence of Richard Ford's oeuvre on Manuel Barrón. The lack of drama can be seen in the sweeping horizon of plains dotted with small patches of forest and hills and in the calm, meandering river on the right side of the painting. In the centre of the composition is a large rocky mass of rounded forms, and the outline of the mountain range can be glimpsed in the distance.
Enrique Valdivieso