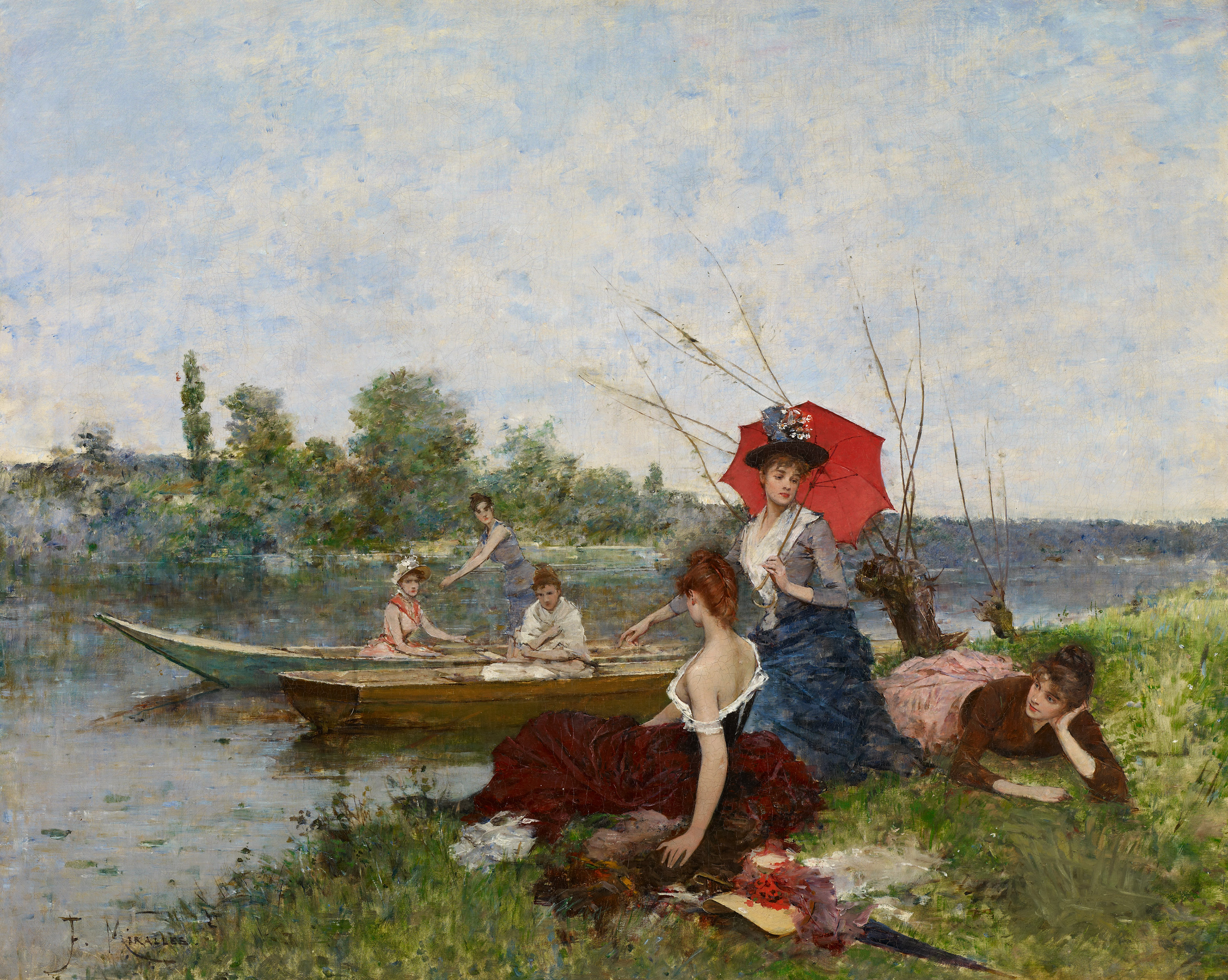 Boating
c. 1888-1890
Oil on canvas

74 x 91.5 cm

CTB.1996.25

© Colección Carmen Thyssen-Bornemisza en préstamo gratuito al Museo Carmen Thyssen Málaga
Although there is no record of any paintings dated by Millares, i.e. there are no dates in the painter's catalogue raisonné,1 and no reference to this picture exists, Santos Torroella attributed several others on the same theme – boats and a group of women relaxing by a river – to the ten years between 1882 and 1892. The subject is typical of his period in Paris, as boating trips of this kind were not common in Catalonia, and although the artist sometimes returned to "Parisian" themes in his late-Catalonian period, the stylistic characteristics in this picture would seem to point to his central or mature period.
Gone is the thick impasto of the early days in the shadow of Martí i Alsina's realism in favour of softer, more vibrant brushstrokes, with greater detail only in faces and flesh tones to provide more realism, and even then in the foreground figures only. Personally I would situate this picture around 1888–90. Its foreign provenance, although not a conclusive factor, also supports the possibility that it was painted during the painter's Paris period.
Without a doubt this painting pays tribute to Manet's Luncheon on the Grass – although a quarter of a century later, when themes of this kind had become part of what in the theatrical world we might call "repertoire". Stylistically speaking it is also influenced by Impressionism: the grass, the trees, the water, the cloud-dappled sky are all the result of nervous, nimble, spontaneous brushstrokes with clean, fresh colours that do not mix. However, the very restrained, measured lines prevent any compositional chaos and the illusionist finish of the faces of the two figures to the right together with the magnificent back of the central figure confirm Miralles's much sought-after compromise with tradition. A favourite feature of the mature Millares, the parasol is particularly important here as it serves to emphasise the most outstanding figure in the composition, the red adding deeper accentuation. This is a picture which (always the case with Millares) somehow gives the impression of belonging to some great frieze or series rather than being a creation in its own right. More than a painter of unique, sublime pictures, Miralles was an artist who described different atmospheres through numerous small- and medium-sized works. His links with Adolphe Goupil, the great international art dealer who purveyed manageably-sized paintings to a large, middle-class clientele, meant that his production was intended for the market rather than for sale privately. This also checked potential excesses by the painter in his expression of realism, with the result that Miralles's pictures would always give a stylised, elegant view of reality, even in the depiction of more or less ordinary aspects of everyday life.
Francesc Fontbona