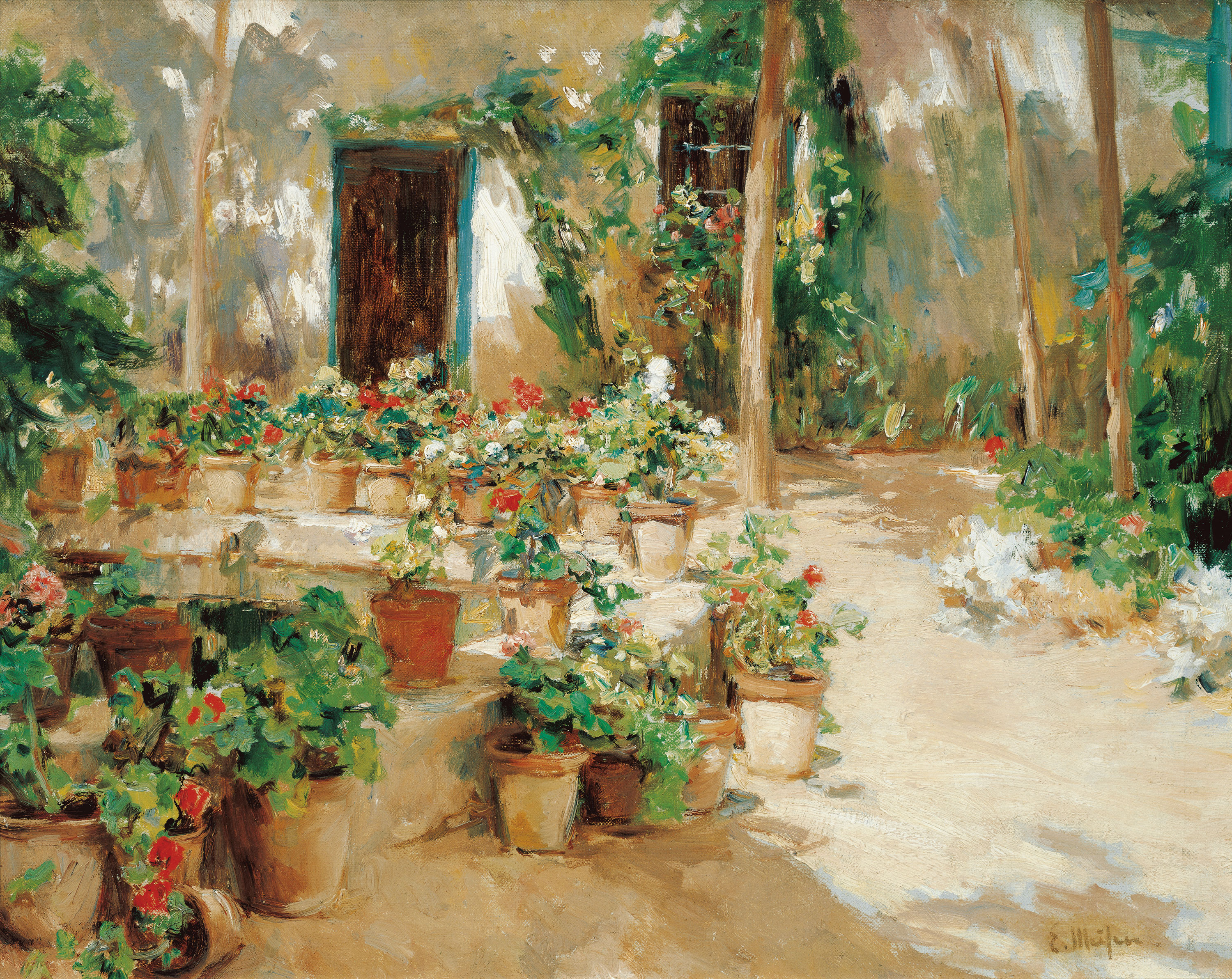 Courtyard
s.f.
Oil on canvas

49 x 62 cm

CTB.1995.96

© Colección Carmen Thyssen-Bornemisza en préstamo gratuito al Museo Carmen Thyssen Málaga
Through his friendship with Santiago Rusiñol, Meifrèn developed a taste for painting gardens and courtyards that was to last throughout his career as an artist. Rusiñol's Blue Courtyard (1891) was the first painting of this genre and set the standards for artists in general. That year, Rusiñol and Meifrèn happened upon the small coastal village of Sitges and there the former painted that and four similar pictures. Meifrèn had made a trip to Paris in 1879 and returned there in 1882 on honeymoon with Dolores Pajarín. Between 1889 and 1893, he made further visits of different duration. His work of that time does not bear the hallmark of Impressionism, although it was to do so later. Through his discovery of Sitges he learned of and was influenced by luminarism, and turned to themes similar to those of Roig i Soler. The naturalistic theme of inner courtyards immortalised by Rusiñol was taken up by Meifrèn, who subsequently developed variations, as he tended to paint the same subject again and again. Once he had discovered a theme or subject that interested him, it became part of his universe and he would use it, either completely or in part, throughout his career, applying a constantly developing personal technique. In Meifrèn's oeuvre thematic periods do not exist; rather there were stylistic periods, times when he was influenced by other artists' styles. As he dated his works only during his first period, dating the rest of his work is an extremely difficult task.
A work of stylistic and technical maturity, Courtyard reflects Rusiñol's criteria when painting his modernist courtyards: an enclosed area, a personal, private microcosm in which all is ordered and formal analogies impose a unity of elements, so determining a rhythm. Here that rhythm can be seen in lines of similar flowerpots. There is an explosion of life in the form of red flowers – as compared to the isolation of the courtyard, which is devoid of people or animals. The rampant vegetation and the absence of figures are the characteristics which distinguish this painting from Rusiñol's early works, where the human figure is an important part of the composition. In other paintings by Meifrèn with similar formal characteristics, such as Patio de Premià ("Courtyard in Premià"), Courtyard (1910), Flowerpots (Premià), A Corner of the Garden and Flowerpots, variations on the same theme can be observed.
Meifrèn painted this picture swiftly and with great skill, the Impressionist technique undoubtedly proving to be the most appropriate. It does not contain technical or formal novelties, as it depicts one of his well-known themes. However, creating a demand from collectors of this kind of swiftly executed pictures by prestigious artists in the period prior to World War I was without doubt his greatest achievement and brought him a great deal of success. This is an example of thematic and stylistic conformity as opposed to running the risks inherent in novelty.
Elvira Sánchez Gimeno