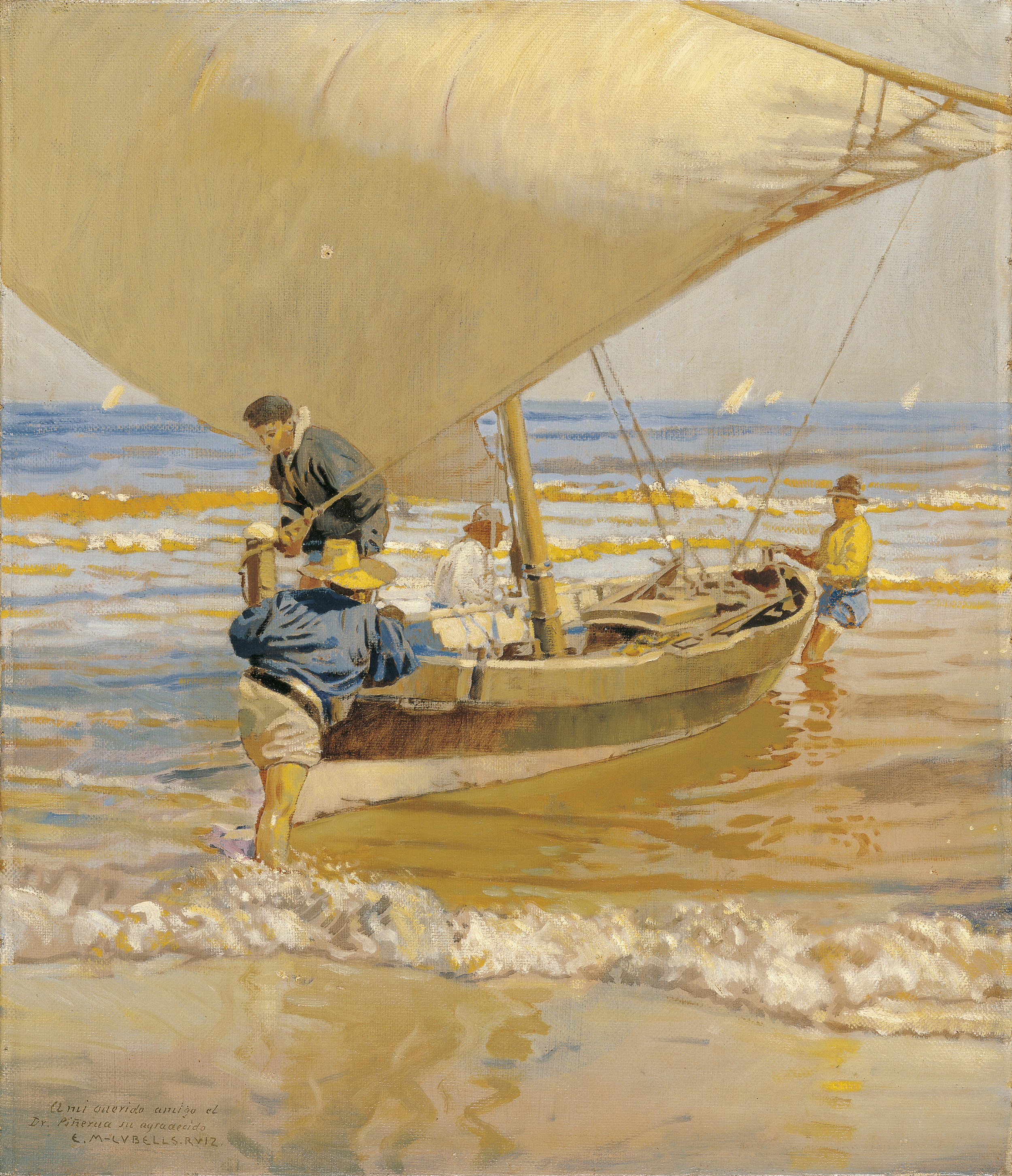 Fishermen Dragging Their Boat
s.f.
Oil on canvas

65.5 x 56 cm

CTB.2000.30

© Colección Carmen Thyssen-Bornemisza en préstamo gratuito al Museo Carmen Thyssen Málaga
One of the genres which most easily identifies Martínez Cubells, due to the large number of his works that have been located and have appeared on the art market, is this kind of beach scene.
From the turn of the century, Martínez Cubells began consistently to produce themes similar to these which associated him more directly with Valencian painting and specifically with the work of Sorolla. He entered a number of competitions, for example the 3rd Exhibition of Contemporary Spanish Painting at the Salón Castillo in Buenos Aires in 1904, and won the silver medal for Valencia Beach at the 1910 World's Fair, also in Buenos Aires.
Having achieved great success at the Salon de la Société des Artistes Français in Paris in 1895, where he won a medal second-class for Return from the Catch (painted one year before), the brilliant Valencian painter began researching that field (he has been acknowledged for this initiative) and his work reached a definite turning-point. Genre painting with other prevalent themes was now behind Martínez Cubells and those paintings, of which Professor Pérez Rojas wrote: "No-one hitherto had tackled or exploited them with such strength and vitality", led the artist towards a form of naturalism in close communion with nature. "Now Valencia is not just orchards but also sea and its folk," he also wrote. Martínez Cubells placed particular emphasis on the social aspect of the working world, on the noble side of certain kinds of tasks, the side which had so much to do with the literature of another illustrious Valencian: Vicente Blasco Ibáñez.
It should be remembered that at that time Martínez Cubells was still studying at the School of Painting, Sculpture and Engraving in Madrid and producing paintings like An Accident (now on loan from the Museo del Prado to the Museo de San Telmo). But Sorolla's obvious influence over Martínez Cubells – who, however, and as a point of interest, would replace his father at the San Fernando Academy – was acknowledged in an interview2 by the painter himself when he described Sorolla as: "the genius from Valencia in modern painting. He revealed to the world the concerns of national Impressionism. He surpassed all that had been done before [...]". Other recollections of his admiration continued in the form of constant, more or less direct allusions to his work, many of which were more than evident, as can be seen in Arrastando la barca ("Dragging the Boat"), in the Pedro Masaveu Collection (on loan to the Asturias Museum of Fine Arts) or in the copy he made of Comiendo en la barca ("Eating in the Boat" – San Fernando Academy of Fine Arts, Madrid), in a private collection.
Evident then was his direct relationship with Valencian painting for, although a Madrilenian by birth, he continually visited the beaches of Valencia. That was how he was seen by many writers of the time, including José Francés who, in reply to Martínez Cubells's speech of acceptance as a new member of the San Fernando Academy of Fine Arts in May 1932, described him as: "A painter with Levantine roots, of a visual education through greys typically, characteristically Valencian [...] with pupils which have caressed the Mediterranean blues and cadmiums", and in his canvases captured "the boys with bare feet and legs pushing the boats brought down to the sand with their sails dark and yellow".
And that is the moment captured in this scene: some fishermen prepare to manoeuvre their boat into the water and go out fishing, while the wind whips waves that spend themselves in foam on the beach and fills the lateen sail of the falucho – that fishing boat featured in countless Valencian painters' canvases, beating to windward along the Mediterranean coast.
Vicente Samper