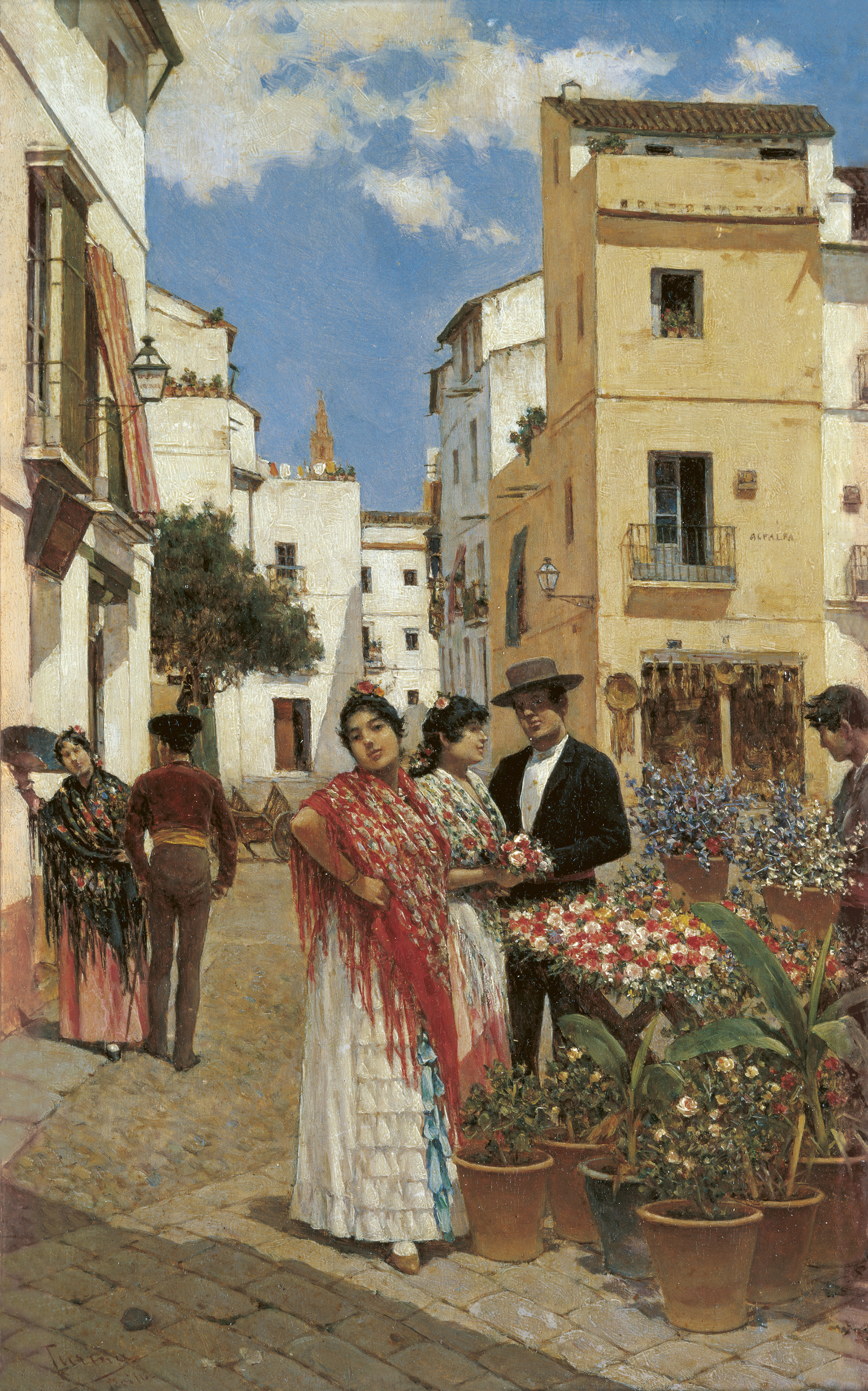 Plaza de la Alfalfa, Sevilla
s.f.
Oil on panel

26 x 17.5 cm

CTB.2002.16

© Colección Carmen Thyssen-Bornemisza en préstamo gratuito al Museo Carmen Thyssen Málaga
The present work is practically identical in size to other paintings by this artist in the Carmen Thyssen-Bornemisza Collection. This similarity in format is due to the fact that they all belong to a particular brand of Andalusian genre painting that was constantly produced from the 1870s and depicted urban scenes aimed at a regular market – generally occasional visitors to the city who needed them to be easily transportable, but also the proud bourgeoisie of the capital. Their equivalents in literature are works such as the sainetes or short farces by the Álvarez Quintero brothers and La tierra de María Santísima by Mas y Prat, among other examples.
This painting, which has a slightly glossy appearance in accordance with the prevailing fashion during the reigns of Alfonso XII and Alfonso XIII for elaborate ornamentation and soft hues balanced by a calm, intense sky, shows a partial view of the Plaza de la Alfalfa in the traditional Santa Cruz district near the church of San Salvador. This spot, together with the Postigo del Aceite, had been recommended by foreign travellers' guidebooks for its appealing bustle since the middle of the century and its outdoor markets were commonly frequented by visitors to the city. Indeed, in a few known photographs the scene is portrayed from the same viewpoint as this work, such as the anonymous one dated between 1886 and 1895 (private collection) in which differences in the urban topography are barely visible, though it differs considerably in the treatment of the figures who populate it.
The painting features several figures, all dressed in attire that is typical but reserved for special occasions, such as the men's trajes de corto with their short, tight-fitting jackets and the women's costly embroidered typically Sevillian shawls. They recall stage actors performing a play from their repertoire, the subject of which is the glorification of the regional character. The dark-haired girl wrapped in her comfortable red shawl gazes suggestively at the spectator, beckoning him to take part in the idyllic paradise into which Turina has converted the square. Her inviting pose typical of a photographer's model is an evident prelude to the seduction scenes that take place in it. There are two more couples, one behind the girl, the man wooing the girl holding a bunch of flowers, and another by the entrance to an establishment where the man stares boldly at the woman who shyly looks away but hints at the rapport between them with her fan.
Carlos G. Navarro