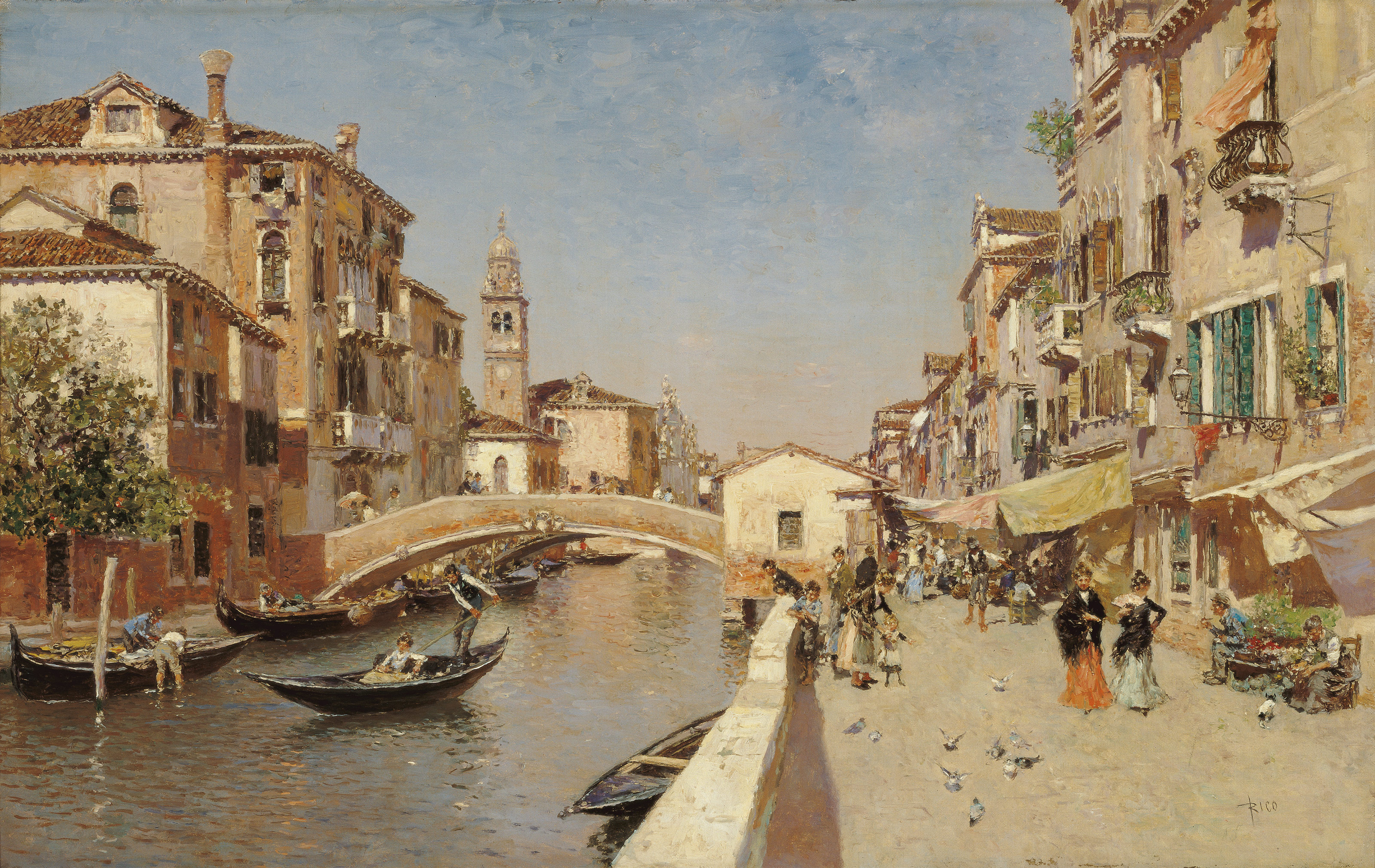 San Lorenzo River with the Campanile of San Giorgio dei greci, Venice
c. 1900
Oil on canvas

47 x 71.8 cm

CTB.1995.16

© Colección Carmen Thyssen-Bornemisza en préstamo gratuito al Museo Carmen Thyssen Málaga
This is a view of one of Venice's minor canals that is associated with the River San Lorenzo, which runs through one of the city's working-class districts and is flanked on either side by different kinds of structures, one, behind the bridge, being a campanile. This must be the belfry of the church of San Giorgio dei Greci, situated where the River Dei Greci (which ends at the Riva degli Schiavoni) begins. On the right there appears to be a small stall with an area for sitting and eating. It is overhung by awnings providing shelter from the sun. Passers-by walk the street and a gondola glides serenely along the canal.
On his very first trip to Italy in 1872, Martín Rico fell helplessly under Venice's spell and from then on was to spend long periods in the city until his death there on 13 April 1908. From those years, Venetian streets, monuments and canals were the absolute protagonists of this great master's landscape production. On the international market, Rico's vedute commanded high prices, as demand from art dealers representing rich, upper middle-class collectors from Paris and the Americas reached almost fever pitch.
Rico mostly painted with the précieux virtuosity he learned from his close friend Mariano Fortuny and took great care over even the smallest detail of the architectural structures and figures that filled his views. This painting, however, is a very important example of his late production (around 1900), in which, despite his international fame and the entirely personal style he had developed over the years, he indulged a desire for creative development by tentatively allowing into his work the influence of Impressionism, a movement by then fully acknowledged in the contemporary art circles of Paris, where he had taken up residence. Here the almost obsessive precision of the draughtsmanship customary in Rico's urban views with its sharply defined outlines and almost razor-sharp edges dissolves into small, short, juxtaposed brushstrokes which diffuse the outlines of figures and architectural elements and endow the painting with a vigorous, throbbing vibration artistically of huge importance. His preference for black to define forms and shadows is accompanied on this occasion by an extraordinarily substantial use of pure colour which, in the ripples in the reflections on the water or the dappled clouds of the sky, comes very close to Impressionism in its strictest form. On the other hand, as is customary in all his work, Rico took great pains with the small figures in the streets, capturing them in different, more or less anecdotal attitudes and so drawing the spectator's attention to them, as for example the woman sitting on the far right playing with a cat or the children feeding the pigeons.
José Luis Díez