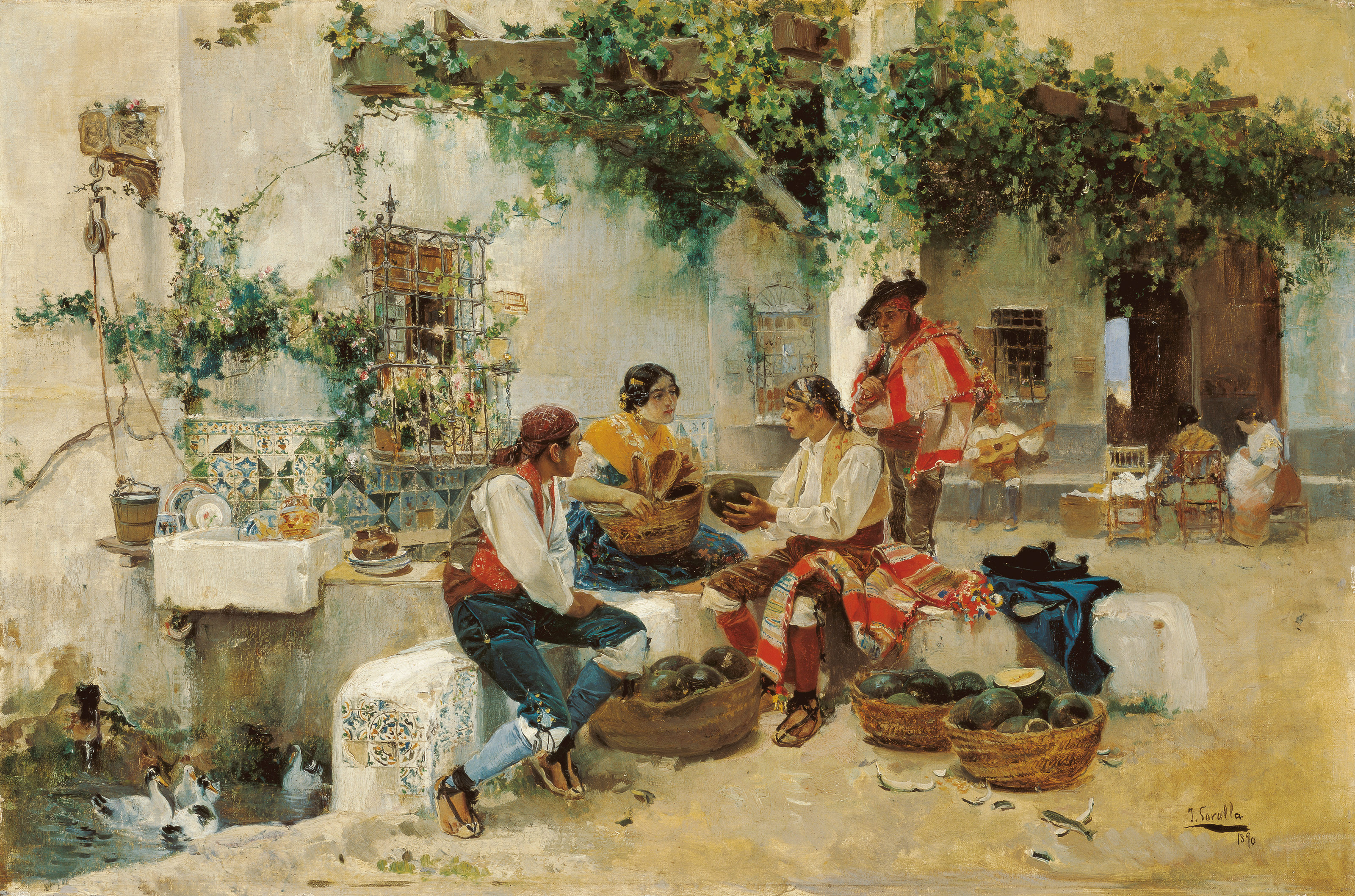 Selling Melons
1890
Oil on canvas

52.2 x 78.6 cm

CTB.1995.29

© Colección Carmen Thyssen-Bornemisza en préstamo gratuito al Museo Carmen Thyssen Málaga
Selling melons is dated in the crucial year when Sorolla left Italy and, after a very short stay in Valencia, settled in Madrid, where he embarked on a career as an artist that would bring him huge international success. The theme of this painting can be traced to other works of Sorolla's during his stay in Assisi between September 1888 and June 1889. By then married and with the scholarship from the Valencia Provincial Council at an end, Sorolla turned to painting scenes which could be easily sold. These generally took the form of small watercolours with genre themes (marketed by Francisco Jover, a Rome-based Valencian art dealer) which Sorolla sometimes developed as larger-sized oil paintings. Costumbres valencianas ("Valencian Customs" – 1890), El resbalón del monaguillo ("The Altar Boy Slips" – 1892) and Kissing the Relic (1893) were all transferred to canvas in this way. These three paintings were deeply influenced by José Benlliure, who lived in Assisi at the same time as Sorolla and adapted to late 19th-century tastes the style made so popular by Fortuny fifteen years before.
As was often the case with this type of painting, Selling Melons is characterised by its high technical quality and compositional complexity. Every figure, every architectural element and every object is rendered in such detail that it seems that the painting should be read rather than observed. Indeed, the composition reaches beyond the title itself and depicts the essence of what was supposedly day-to-day life on a Valencian farmstead. Here the fertile region of Valencia and its inhabitants are dealt with from an idealised, anecdotal point of view.
Beneath an arbour of vines covering the whitewashed walls of a building, the activity that gives its name to the canvas is taking place. But at the same time the picture contains a scene of women at their work, another of recreation through the solitary figure playing the guitar, various still-lifes, studies of ceramics and popular Valencian crafts, a study of animals (in the small pond with ducks in the lower left corner), and even a sketchy landscape suggested in the background through the half-open double doors. However, this assortment of secondary themes, all within a single theme, actually achieves authenticity through the extremely realistic treatment of the figures. Each is painted in the greatest possible detail and the heterogeneous group is unified by a soft, nuanced treatment of light and shade.
In a nutshell, the painting is built up by means of a number of thematic, spatial and light planes so varied that they accentuate the narrative sense while allowing the technical skill so admired by customers of this kind of style to shine through. By and large the style differs from that which was to define Sorolla some years later in three basic ways: greater compositional complexity, greater technical perfectionism and a wider range of colour.
Carmen Gracia