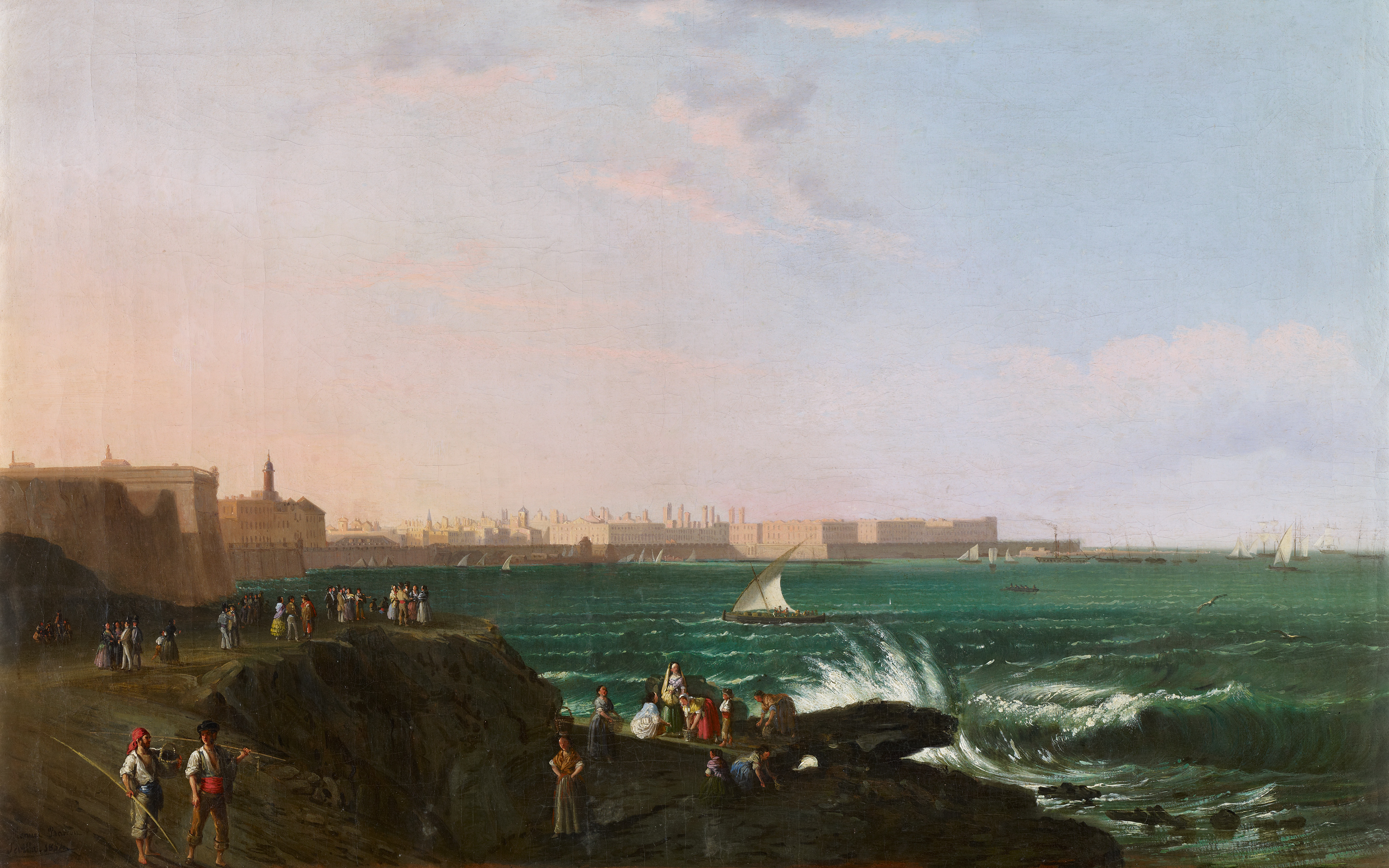 View of Cádiz
1854
Oil on canvas

58.5 x 93 cm

CTB.2001.18

© Colección Carmen Thyssen-Bornemisza en préstamo gratuito al Museo Carmen Thyssen Málaga
This view of Cadiz, captured from Punta de Vaca outside the city walls, is notable for its air of a Neapolitan veduta or topographical view in which the broad stretch of sea plays an essential role in the composition. It shows the city in perspective in a lively scene with people in the foreground wearing colourful attire and a number of fishermen close to the viewer. This is a common feature of views of this kind, which always incorporate characteristic human figures that can be identified with a country; human type and landscape – in this case, urban – are thus linked as two basic cultural expressions of a place and its society. Indeed, they are significant features of landscape paintings, very much in consonance with the Romantic tradition of appreciation of and interest in the human types that identify cultures and territories, and are widely used in the views painted by Barrón.
With its busy port and impregnable 18th-century defences, Cadiz was not only the metropolis of the American colonies but also a reference of modernisation and development of a new society which was, in many ways, the cradle of the new ideologies that changed the course of history throughout the 19th century. The role played in this respect by the city and its important bourgeoisie is undeniable, especially in relation to the emergence and dissemination of liberal ideas.
The painting was probably commissioned by an enlightened landowner, merchant or senior official or by one of the then burgeoning Economic Societies of Friends of the Country. This Cadiz landscape, like the previous painting of the Port of Malaga, another city of similar characteristics and with a similar type of society, catered to a local demand resulting from the identification of significant members of the local bourgeoisie with the city – that is, with the landscape and settings that were the backdrops to their economic and social activity. Furthermore, Barrón's composition is based very closely on Chapuy's lithographed view of Cadiz that was published in Paris in 1830 as a Vue d'optique, a type of geographical representation very typical of the Enlightenment, as part of L'Espagne. Vues des principales villes de ce royaume.
Juan Fernández Lacomba