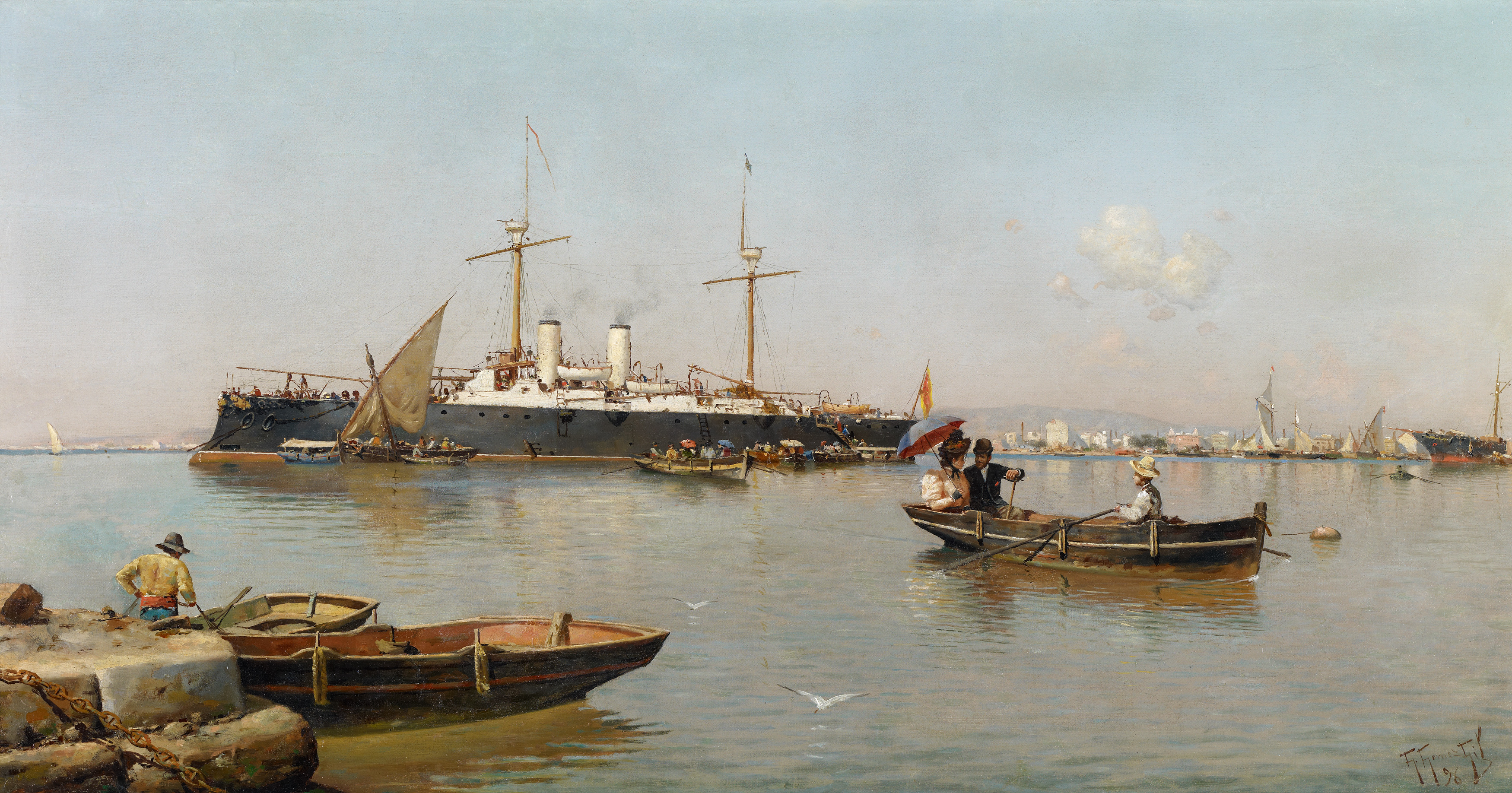 View of the Port of Málaga
1896
Oil on canvas

56 x 105 cm

CTB.2002.25

© Colección Carmen Thyssen-Bornemisza en préstamo gratuito al Museo Carmen Thyssen Málaga
Although best known for his seascapes of the coasts of Malaga and Cadiz, Guillermo Gómez Gil also painted a number of views of Malaga's port. Thus, at the 1892 National Exhibition of Fine Arts, four years before he signed this painting (now belonging to the Museo Carmen Thyssen Málaga Collection), he entered another View of the Port of Malaga almost identical in size to this canvas, and at the 1896 Circle of Fine Arts Biennale exhibited another painting which, under the title Marina ("Seascape"), was a view with the same characteristics, and was mentioned by the critics.2 Furthermore, the Carmen Thyssen Málaga Collection possesses another view of Malaga taken from a very similar angle. Dated 1899, it confirms Gómez Gil's interest in capturing this image of the city as seen from the sea. Here, however, Malaga is depicted from the right side of the port, next to the lighthouse. The old city dock is visible in the background, although it was to be completely renovated only a year later (1897). Suggested behind the dock and depicted with short, imprecise strokes are the city's most iconic landmarks, seen from the sea, including the Customs House, while on the left side in the distance, the nearby town of Torremolinos is distinguishable.
In the foreground, a seaman with his boat moored at the breakwater repairs his tackle, while the waters of the port are plied by various modest sailing craft. In a small boat a couple are out on what is perhaps a romantic excursion; an oarsman guides them among the ships in the port. Gómez Gil painted scenes of this kind regularly for commercial reasons and in this picture, to a certain extent there is an additional selling point – the recognisable backdrop of Malaga city – making it especially appealing to the local middle class. However, behind the amorous boaters the huge Spanish Navy cruiser heading out to sea is a less picturesque reminder of other activities in the port of Malaga. Cruisers were very swift warships and the Spanish Navy had ordered several built shortly before this picture was painted. The presence of one such vessel in the port of Malaga, therefore, was particularly striking. Although all were similar in appearance to the one in the canvas, Gómez Gil's lack of precision in the detail does not allow it to be identified.
Using concise, rapid brushstrokes, Gómez Gil decided to simplify the more relevant iconographic information in this painting, such as that regarding the buildings or the attractive constructive elements of the navy vessel, in order to concentrate all of the painting's aesthetic interest on the glassy quality of the water and the dramatic effect of the clouds in the sky.
Carlos G. Navarro