Co-laboratory Activity
MCTM micro-stories competition
From 05 to July 20, 2016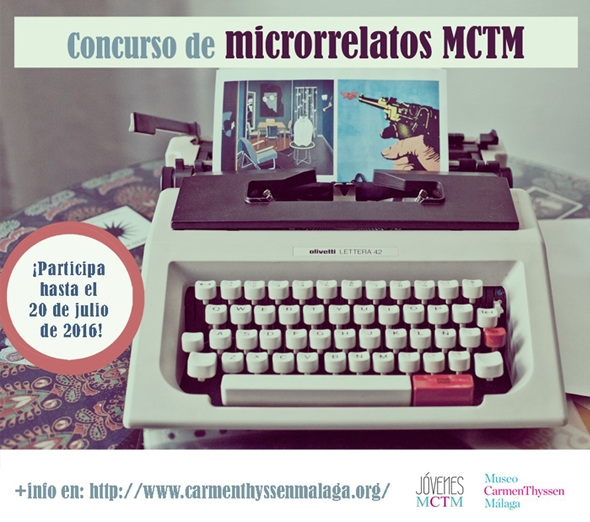 Days and times:

Entries must be sent between 5 and 20 July 2015

Information and enrolment:

Entries must be sent between 5 and 20 July 2015 in pdf format to the following e-mail address: educacion@carmenthyssenmalaga.org, with the heading "Concurso de microrrelatos MCTM" and the title of the chosen work of art. The jury will select 5 finalists whose stories will be published on 22 July on the Museum's Facebook page. The winning story will be the one to obtain most users' votes on that page.

Participants:

Everyone interested in literary creation. No age limit.
The project
The Museo Carmen Thyssen Málaga has launched this competition, proposed by its Young MCTM group, with the aim of promoting the relationship between visual and literary creation.
The Museum's intention is to encourage literary creation through the inspiration of two works now on display in the exhibition Reflections of Pop:
- José María Blanco White threatened by his followers in London, Eduardo Arroyo, 1978 (See work)
- Cain and Abel, Equipo Realidad, 1967 (See work)
The micro-stories entered in the competition must be no longer than 200 words and must be based on one of these two works.
Prize
The winner will receive a catalogue of the Reflections of Pop exhibition and a selection of books relating to that subject. In addition, the Museum will publish 1,000 large-format cards with the winning story reproduced on them, to be displayed next to the work and available free to visitors. The winner will be announced on 31 July 2016.
For more information, please consult the rules of the competition
Related content