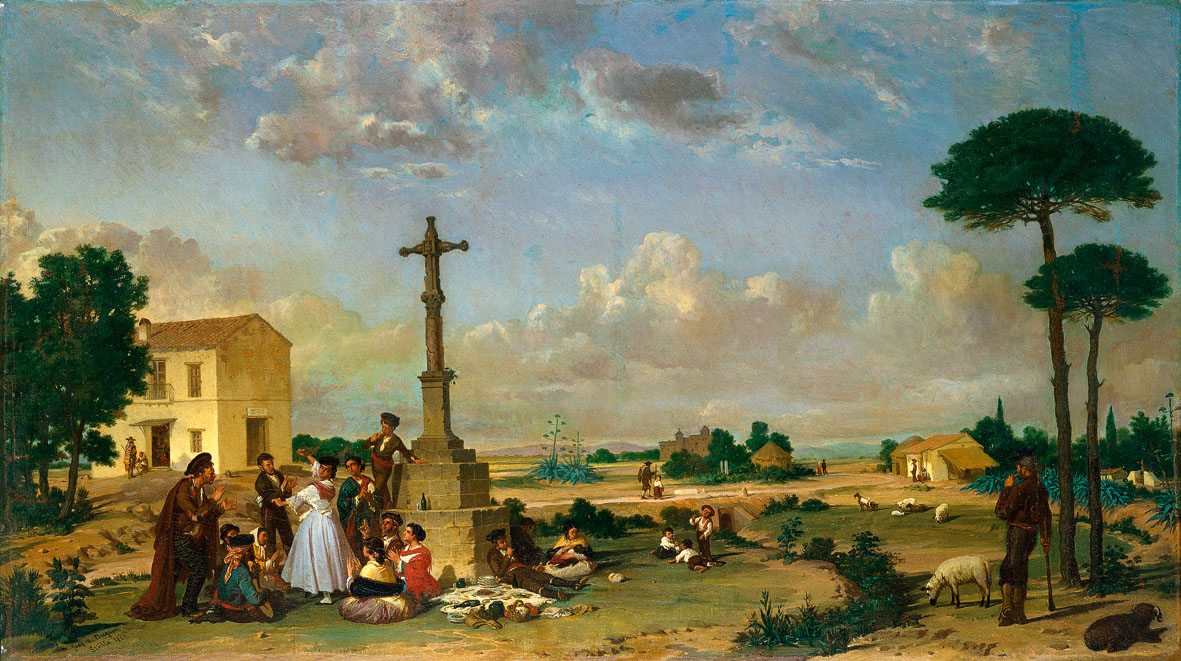 Dance outside a Country Inn
1867
Oil on canvas

56.5 x 101 cm

CTB.1994.36

© Colección Carmen Thyssen-Bornemisza en préstamo gratuito al Museo Carmen Thyssen Málaga
This painting, the companion piece to The Seville Fair, shows an open landscape, most likely on the outskirts of the city, where several people enjoy a picnic at dusk beside a boundary stone with a cross. At the foot of the stone cross marking the crossroads, a group of Andalusians clap in time with the girl who dances and plays the castanets. Spread out on the ground is the tablecloth with the leftovers. A couple with their new-born baby rest in the shade of the pedestal, and further away from the group some little rascals lie on the grass playing. The scene is watched by a shepherd leaning on his staff by a group of pine trees on the far right.
While its companion piece is a testament to Joaquín Domínguez Bécquer's particular fondness for urban scenes set in the city of Seville – the genre of some of the most significant works of his entire output – this painting shows the artist's great skill at panoramic views of sweeping, open landscapes with low horizons and detailed skies, tinged with a bucolic calm and peppered with small genre scenes with an anecdotal flavour, which he painted throughout his career.
The painter chooses a very elegant composition with a pronouncedly horizontal format, shifting the main focuses of attention to the edges and scattering the whole countryside with varied elements that steer the spectator's gaze from the foreground to the distance. From the main group to the inn located by the road along which two wayfarers walk, the roadside huts further away and the monastery visible in the background behind the tree grove, the different ingredients of the landscape are rendered with an exquisite concern for detail. The same attention is devoted to the natural features of the countryside and, above all, the sweeping sky crossed by clouds, which attest to the painter's undisputable talent for this genre, in which he outshone other Sevillian late Romantic painters.
José Luis Díez