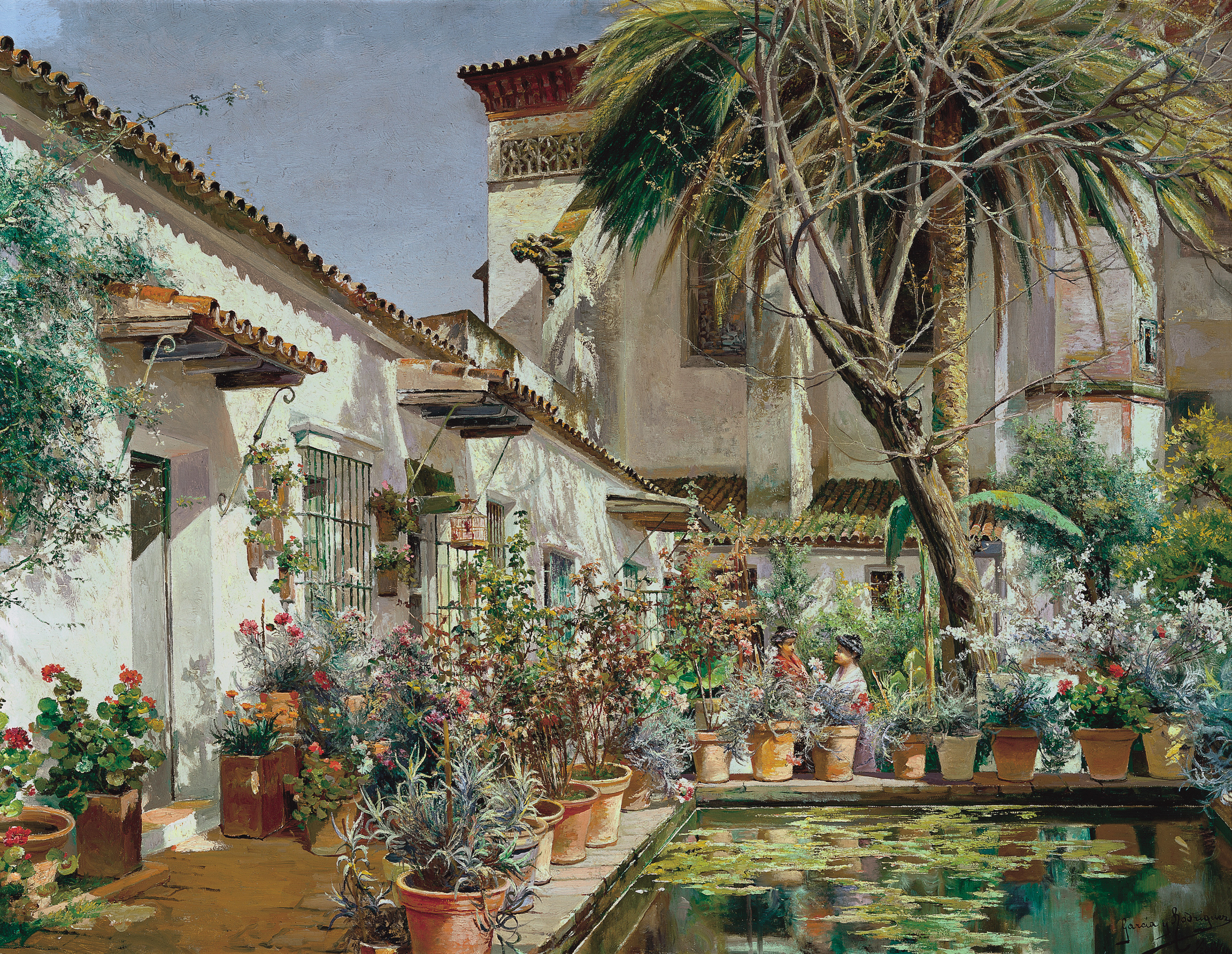 First Atrium of Santa Paula Convent, Seville
c.1920-1925
Oil on canvas

73.7 x 97.8 cm

CTB.1995.10

© Colección Carmen Thyssen-Bornemisza en préstamo gratuito al Museo Carmen Thyssen Málaga
With a colourful, descriptive flavour and again featuring women amid lush vegetation, this painting from the final period of García Rodríguez's production depicts a picturesque, extremely Sevillian corner of the first atrium of the famous convent of St Paula, an iconic building with a character of what, since the first Romantic travellers, has traditionally come to be considered "typically Sevillian". Yet the convent's famous Mudéjar Renaissance tiled portal designed by Niculoso Pisano and so acclaimed by visitors and historians is not included in this painting. García Rodríguez, it seems, preferred the more eclectic, popular garden area and added just a few luminarist touches to the leafy monument.
The canvas captures the outside walls of the sanctuary with its gargoyles and Gothic cresting and a corner of the adjacent garden. Around a pool (now lost) in the foreground a host of flowerpots hold roses, carnations and geraniums. To the left over the entrance to the gardener's house hangs a cage with a canary singing in the morning sunshine. This painting displays features and special attention to descriptive detail that indicate – as in the case of The Alcazar Gardens, Seville – a form of popular, illustrative type of précieux painting affording occasional glimpses of modernist illustrations.
Indeed, pictures of this kind in García Rodríguez's production, especially from his last period, are viewed as painted emblems of a Sevillian "garden of the senses" – a local cultural characteristic derived from previous artists' and writers' work. In this way a sense of continuity was established vis-à-vis the attention paid to this kind of subject matter within a common sensitivity, from Bécquer to Romero Murube or Cernuda to José María Izquierdo.
In this respect, a description by the historian and great man of Sevillian culture José Gestoso published in 1894 – a very apposite description with echoes of Bécquer which coincides in many aspects and in its appraisal with the personality of this unique garden area – is extremely revealing. It was published as an introduction to Sevillian Pages by Manuel Chaves, another important writer where definitions of "the Sevillian" are concerned.
Juan Fernández Lacomba