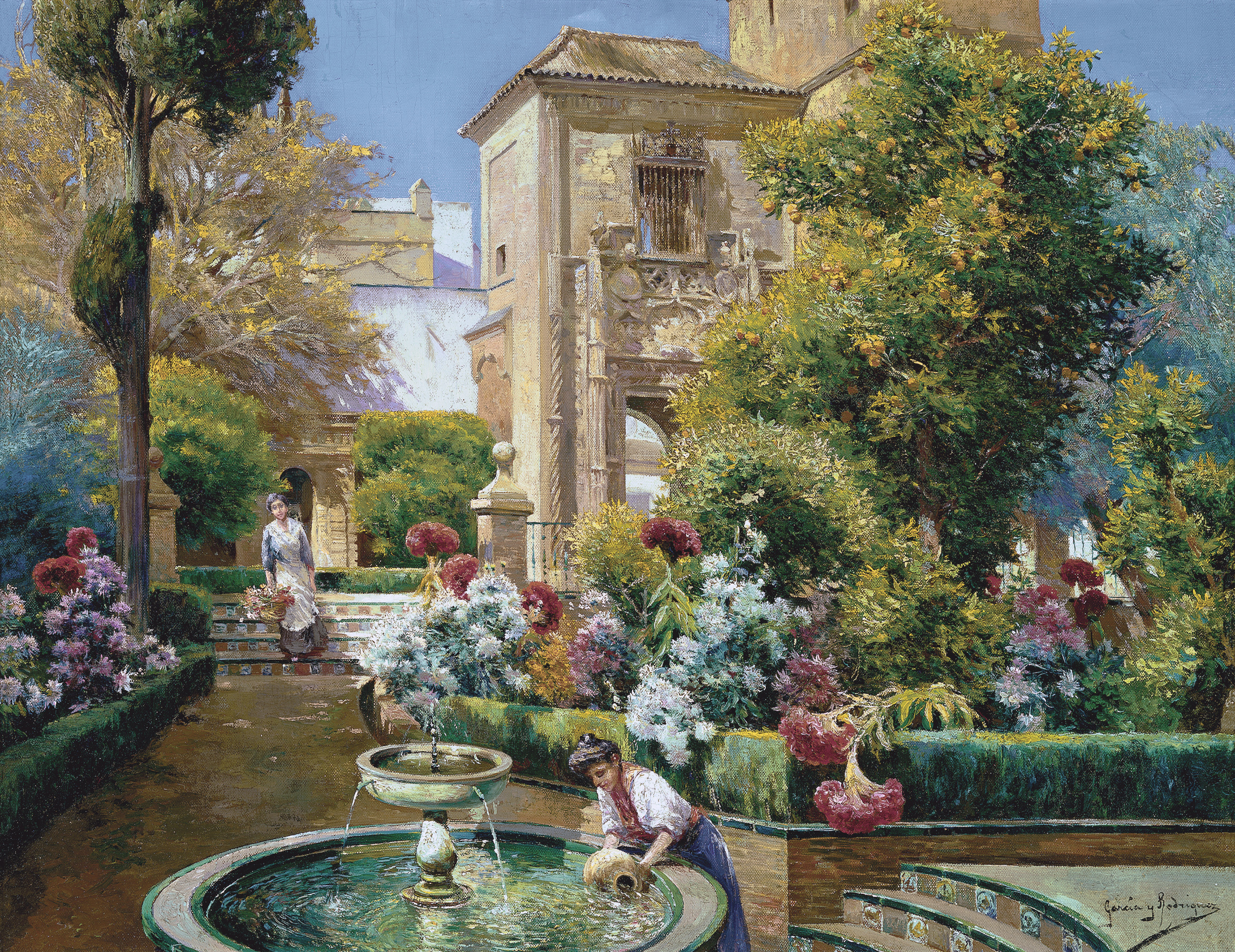 The Alcazar Gardens, Seville
c. 1920-1925
Oil on canvas

53.3 x 68.6 cm

CTB.1995.11

© Colección Carmen Thyssen-Bornemisza en préstamo gratuito al Museo Carmen Thyssen Málaga
The scene in this medium-sized canvas was painted specifically for a middle-class household. In this view of Seville's Alcazar gardens, García Rodríguez, whose production by the 1920s was approaching its end, captured a section of the adjacent land (belonging originally to the Huerta del Retiro, next to the Alcazar) where the Marquis of Vega-Inclán had previously carried out certain extensions. The Gothic-style gate of the Duke of Arcos's old palace at Marchena (also in the province of Seville) which was dismantled and rebuilt there by the marquis, is clearly visible in the picture.
If the Marquis of Vega-Inclán's alterations to the style and urban environment can be said to have affected the city's subsequent image as typical and picturesque with historical accents, the same is also the case of many of the Sevillian paintings "organised" by García Rodríguez. These also reflect such a keenness to stress the picturesque and historical and are so highly-charged with Sevillian environmental values and circumstances as to verge at times on the theatrical and even on rampant préciosité. Such is the case in hand – a view of Seville's Alcazar that is sickly-sweet and flowery to the point of exaggeration.
García Rodríguez's production at that time consisted of colourist, descriptive scenes with an illustrative bent – an aspect of his work which he regularly deployed in magazines like Blanco y Negro – usually with the inclusion of female figures. Socially such scenes were extraordinarily successful, above all in paintings of the Alcazar, to the extent that their luminarist potential was exploited by other Seville artists, like Gil de Gallangos and José Arpa, whose production was linked especially to these gardens.
Juan Fernández Lacomba