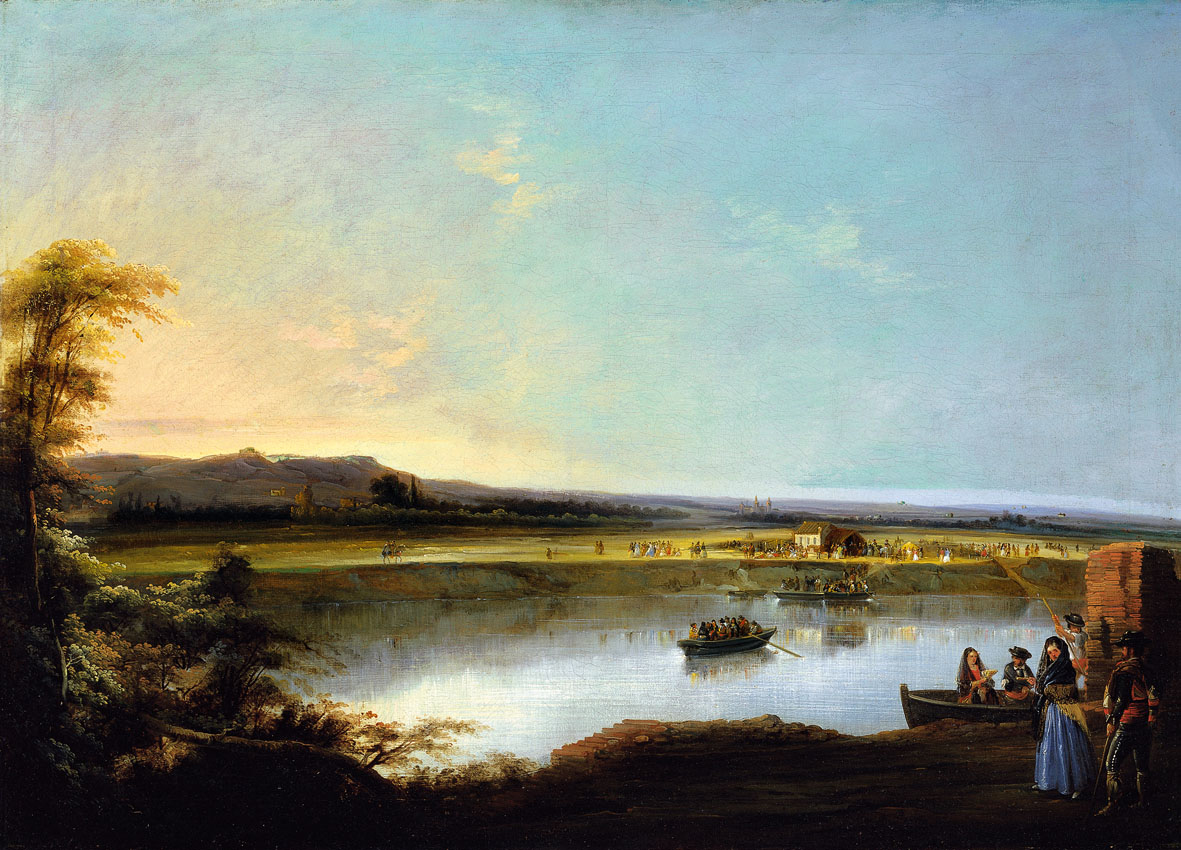 Crossing the River Guadalquivir
1855
Oil on canvas

73 x 100.3 cm

CTB.1996.13

© Colección Carmen Thyssen-Bornemisza en préstamo gratuito al Museo Carmen Thyssen Málaga
Of all the scenes painted by Manuel Barrón throughout his prolific career as a landscape artist, Seville and its surroundings were the favourite subject matter for his panoramic views, depicted from a broad variety of corners and spots. Landscape paintings of this kind enjoyed huge success on the Sevillian market of the time among the wealthy clientele of the capital, who decorated their homes with them. They were equally popular with travellers who visited the city, attracted by the picturesqueness of its monuments and the exoticism of its customs – which were the greatest embodiment of what was typically Spanish to the eyes of foreigners – and bought landscapes of this kind and Andalusian genre scenes to take back as travel souvenirs.
The main feature of Barrón's views of Seville was nearly always the river Guadalquivir, whose navigable waters made it the backbone of city life. Indeed, its banks have continued to be a meeting and strolling place for Sevillians almost up until the present day.
This painting shows a sweeping countryside, most likely on the city's outskirts, through which the broad river calmly flows. By the bank, amid a meadow, is a picnic spot with a shelter. Large groups of people are gathered around it in a festive atmosphere in the calm of the afternoon to have a bite to eat while enjoying the dancing.
In the foreground, a couple of strollers wait by the pier to board one of the ferries to cross to the other side, while other boats crammed with people ply the river's sparkling waters.
This delightful landscape is highly characteristic of the mature style of Barrón, by then fully trained and already hailed as a master of this genre in the Seville of his day. Ever fond of sweeping panoramic views with emphasis on the sky, which fades into very delicate distant settings in which the small figures and buildings are rendered with particular care, Barrón displays an outstanding exquisiteness in the tonal hues of the horizon line and uses bright, enamel-like colours to achieve a clearly decorative effect. He furthermore devotes particular attention to the foreground figures, who are painstakingly rendered with their striking costume in accordance with the most authentically Romantic picturesque trend that was especially espoused by Sevillian painters.
Nevertheless, traces of Barrón's academic training in classical landscape painting are still clearly visible in both the ordered clarity of his composition and the arrangement of the grove and the whole of the foreground on the same plane in order to suggest spatial depth, almost in the manner of a theatre wing. However, he achieves a charming painting peppered with the anecdotal detail of the figures, which add a genre component to an otherwise sober geographical view and attract the viewer's attention.
The reverse of the painting preserves a label bearing a name in old-fashioned handwriting, probably of a previous owner.
José Luis Díez