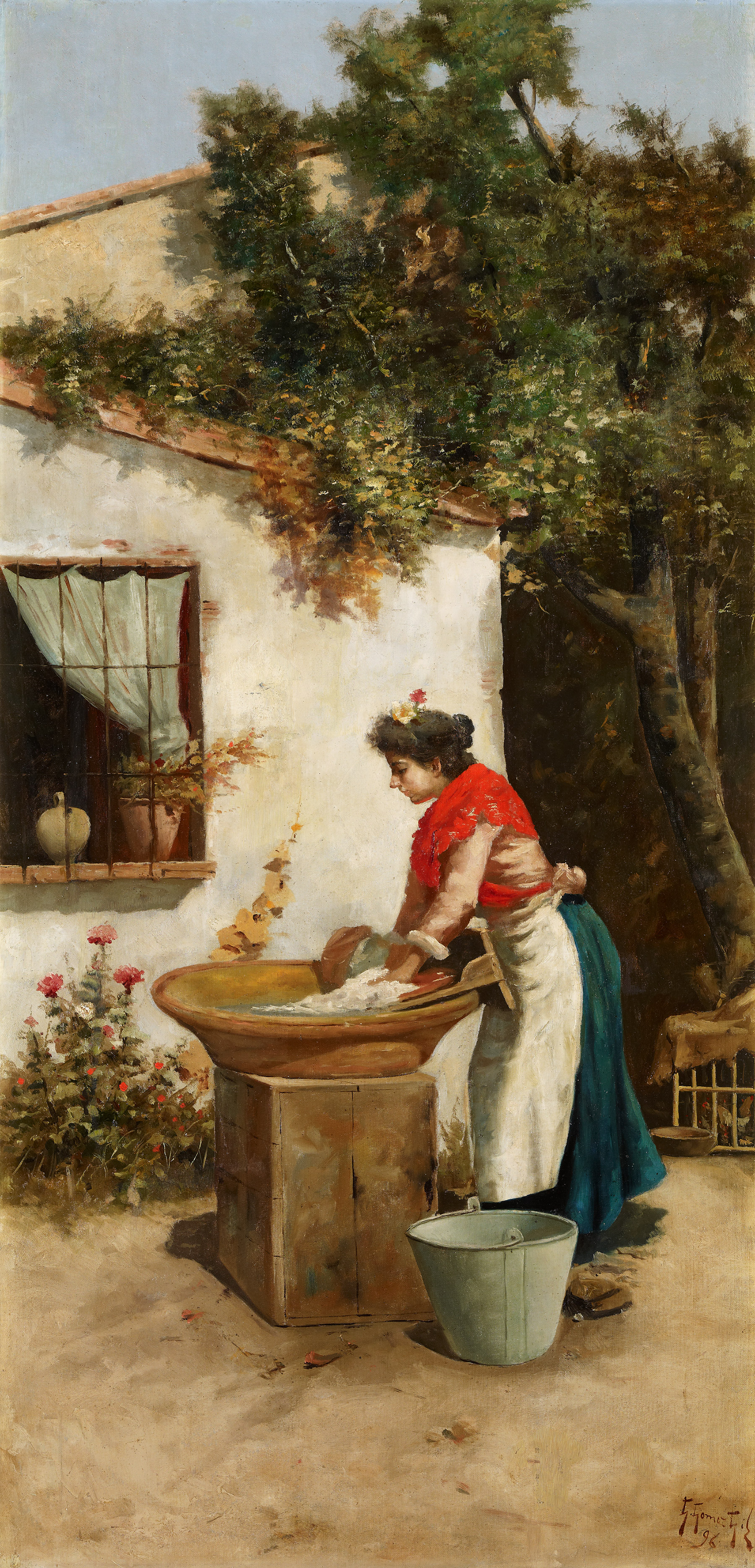 Washerwoman
1896
Oil on canvas

110 x 54 cm

CTB.2009.13

© Colección Carmen Thyssen-Bornemisza en préstamo gratuito al Museo Carmen Thyssen Málaga
Inside the courtyard of a humble dwelling a young girl lathers and rubs her clothes on a washboard and, engrossed in her chore, plunges them into a clay bowl on top of a shabby wooden crate. The action takes place by the wall of a very modest looking house that is briefly sketched. The painter's interest in late genre painting is focused on a pleasant and conformist description of the daily tasks of the working classes – just as he developed a certain interest in the iconography of bourgeois life (see, in the Carmen Thyssen-Bornemisza Collection) – and he in no way espoused the demands of social painting or regionalist trends.
The work is painted with a keen interest in colour that is characteristic of fin-de-siècle decorative realism in Spain and is its most appealing feature. The emphasis is on the brilliant shades of colour, as in the shawl draped across the washerwoman's chest, the flowers in her hair and what appear to be wild flowers growing beneath the window of the house. The painting is a good example of Gómez Gil's landscape approach to his scenes with figures. His interest is focused on depicting nature briefly but effectively, while the rest of the composition is merely sketched. Indeed, his academic training as a landscape painter seldom led him to devise scenes like the present one in which people are the main features, and even then they betray his scant interest in anatomical drawing and figures. Although this painting has a sketchy appearance that appealed to late 19th-century bourgeois tastes, Gómez Gil shows a certain amount of interest in rendering a few details more elaborately, such as the effect of the bars on the window enclosing the flowerpots and the cloth-covered cage of chickens and quail at the foot of the tree with a dish beside it, a reference to the common method of fattening poultry quickly to be eaten.
The work came onto the Madrid art market together with another painting of a similar size signed and dated the same year and showing a young woman feeding hens in a setting that the painter often repeats in works of this kind. It is probably the companion piece to the present painting.
Carlos G. Navarro