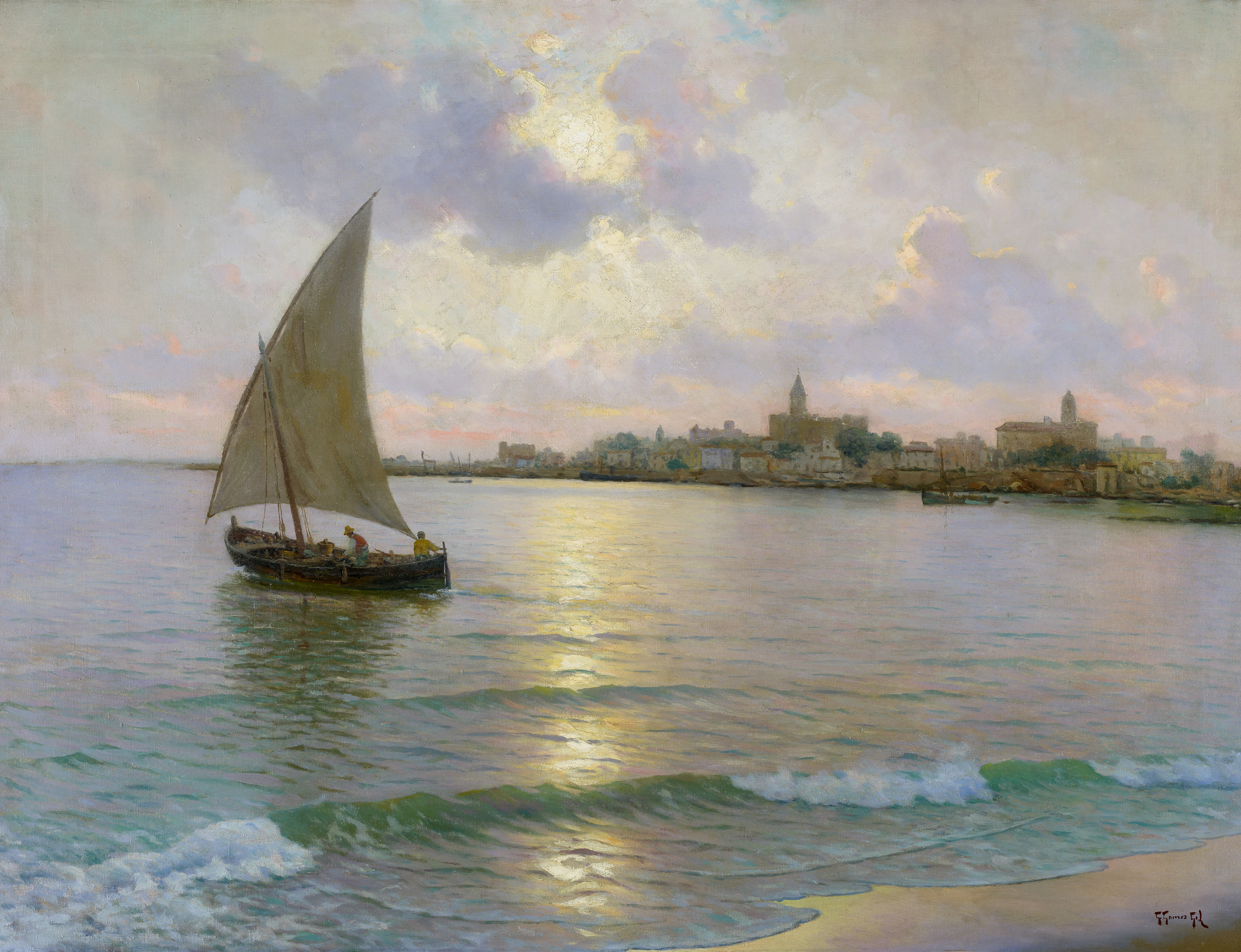 Seascape
s.f.
Oil on canvas

91 x 121 cm

CTB.1996.110

© Colección Carmen Thyssen-Bornemisza en préstamo gratuito al Museo Carmen Thyssen Málaga
At first sight, this could be a view of Malaga from Bellavista. However, the architectural features on the skyline do not exactly match those of today, although the cathedral tower, the Customs House in the foreground and signs of a new park laid out at the beginning of the 19th century do seem to be recognisable. Furthermore, if this were indeed a view of Malaga from the sea, then the other church buildings in the composition would be imaginary. On the other hand, the skyline bears a close resemblance to that in other marine paintings by the artist and there are geographical features typical of the coasts of northern Spain, which suggests that Gómez Gil used a kind of "template".
Here the expressiveness of the work is defined by the fishing vessel putting to sea, adding an anecdotal note to the picture.
Nevertheless, it is obvious that the artist suggests objectivity in his paintings but was persuaded to use stereotypes to construct a kind of theme in great demand at the turn of the 20th century by middle-class collectors whose only requirement was a "modern" effect but without any actual need to achieve modernity's proposals of interpretive honesty.
Technically, it is the late afternoon light shining on a calm sea with Mediterranean connotations that lends personality to this composition. With the type of sky depicted the artist attempts to vitalise the painting with spots of colour among the masses of cloud. The brushstrokes are flowing and well-blended, helping to increase the sensation of tranquillity which the canvas is intended to convey, although as in so much of his production, the artist did not overstep conventional limits. Gómez Gil's work was intended for a market which expected nothing more than pleasant impressions and mere hints of reality.
Teresa Sauret Guerrero