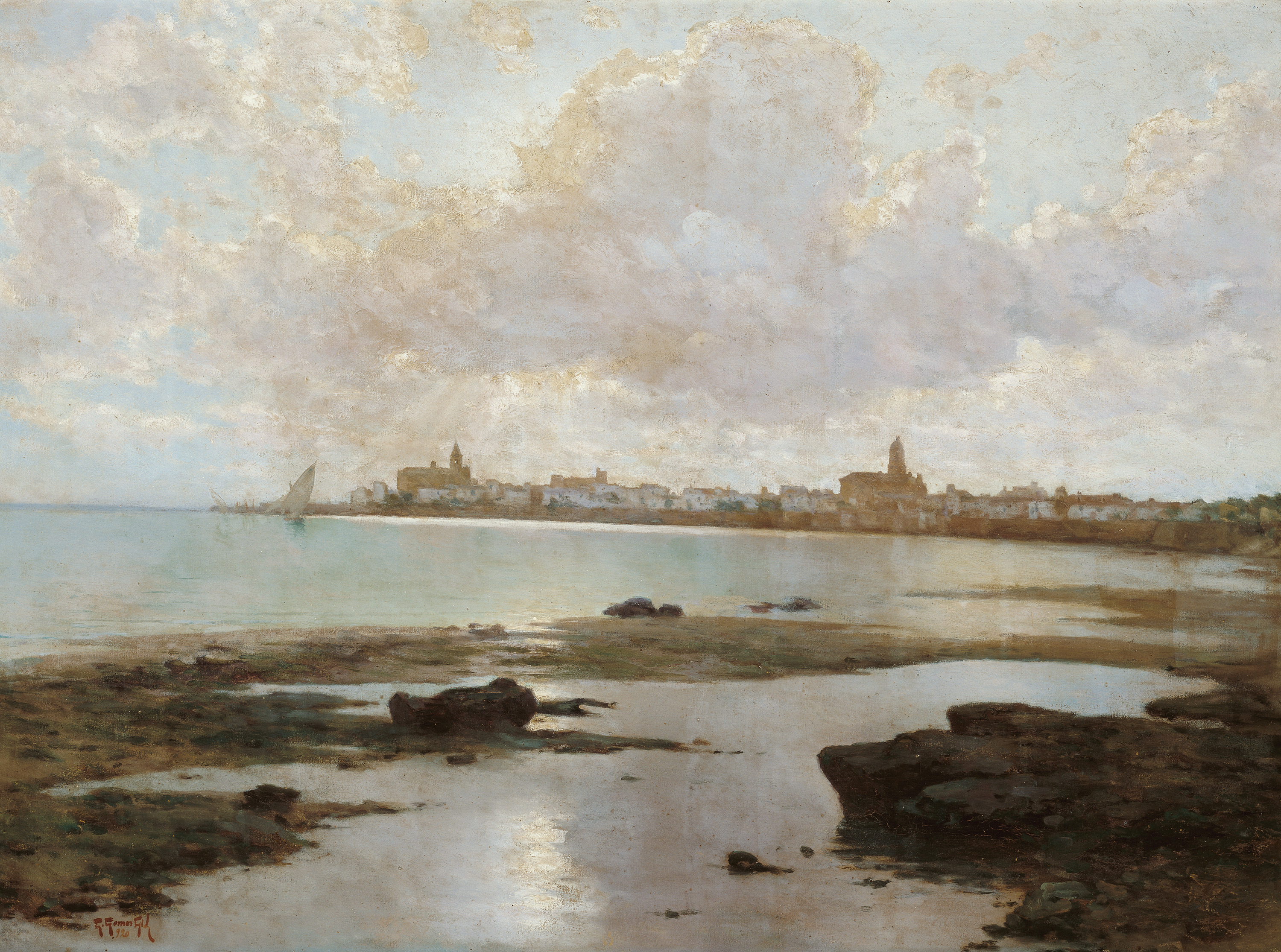 Coastal Landscape
1920
Oil on canvas

87 x 117 cm

CTB.1996.111

© Colección Carmen Thyssen-Bornemisza en préstamo gratuito al Museo Carmen Thyssen Málaga
Gómez Gil's production revolves almost exclusively around marine paintings. Although for decades he had been intrigued by the sea itself as a medium enabling him to experiment with the colour and light reflected on its surface, around the end of the 19th century he became ever more interested in personalising it. Coastal Landscape belongs to that type of marine painting.
To connect that trend with Gómez Gil's production and specifically with this painting is also to connect it with his period in Madrid and his possible links with Casto Plasencia and the Madrid Circle of Fine Arts, with their preference for wild seascapes with shorelines, cliffs and ports on the rugged and hostile coasts of northern Spain in the final decades of the 19th century.
This particular marine painting nevertheless belongs to that category of fin-de-siècle landscapes associated with the plein air type of painting of Carlos de Haes or even of Beruete, but which, while replete with academic conventions, do not fully contemplate research into atmosphere or surface as based on the power of the spot or impasto. Rather they perform a function in which it is hard for there not to be a certain softening of the theme due to the choice of ambient light or the framing of the view.
Light, on the other hand, is the feature through which this painting expresses its translation of the new concept of modernity. However, it does not achieve a clear definition along the lines of expressing "Mediterraneanness" or of dramatising regenerationism in Castilian or Basque hands. The surface is built up by areas formed with impasto and soft, flowing brushstrokes, with contrasting areas of light to achieve striking scenographic effects. Such methods bring Gómez Gil's work closer to the use of stereotypes found in landscape painting at the end of the century.
In Coastal Landscape Gómez Gil acted like a painter eager to capture the environment precisely and meticulously by employing a technique which in fact rejected that objectivist view whereby the protagonism of light is tantamount to a testimony of veracity. He thus recalled pictures of nature by Beruete, but in a pleasant, mellow vein without that touch of aggressive, militant hardness so typical of the latter's landscapes.
Teresa Sauret Guerrero