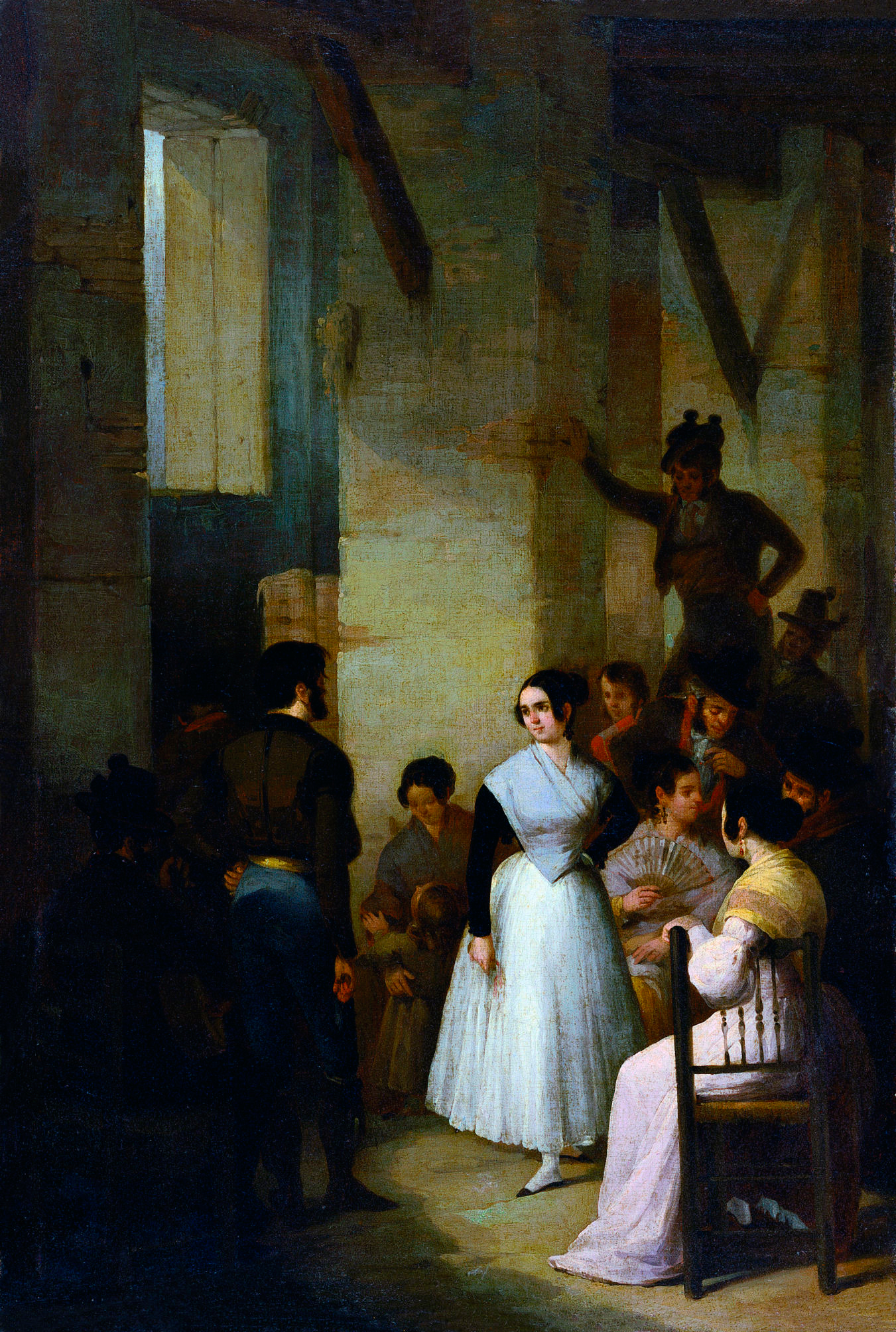 Indoor Dance
1841
Oil on canvas

69 x 47 cm

CTB.1995.39

© Colección Carmen Thyssen-Bornemisza en préstamo gratuito al Museo Carmen Thyssen Málaga
This painting is the companion piece to Rendezvous in the Street. Small scenes of this kind depicting common folk were almost always painted and sold in pairs that were not necessarily related at all in theme, although in this case a possible narrative sequence may be sensed.
Indeed, whereas in the companion piece two majos – dashingly dressed lower-class urban types – make signs to two girls to meet later, the present work could be the sequel in which, having shaken off the bothersome and watchful presence of the unsociable owners, the young people have fun dancing inside a crowded tavern or inn. One of the couples stand, castanets in hand, and slowly begin to execute the first steps of their dance; the rest of the people are grouped around them, although the majority are engrossed in pleasantries.
This painting shows even more clearly the importance Bécquer attaches to the architectural backdrops in which he sets his scenes – in this case with bare walls and high ceilings that provide few clues to the nature of the premises and accentuate the verticality of the composition, framing the figures in a broad space which contrasts with that of the other painting. In other respects, both paintings display the evident influence of the picturesque Andalusian scenes in the same format painted by his cousin José Domínguez Bécquer (1805–41). Both artists are even known to have worked on the same painting in order to keep pace with the demand of their numerous clients – generally foreigners – keen to own works of this kind full of local colour, especially the English travellers who visited Seville in the middle decades of the 19th century.
The painter also displays a skilful handling of the light which floods through the side window. Its harsh backlights cut through the semidarkness of the interior clearly emphasising the figure of the young woman dancing and the woman sitting watching her in the foreground – no doubt her companion in the other painting – and cause the outline of the young man leaning on the column who has climbed up to get a better view of the dancing to stand out dramatically.
José Luis Díez