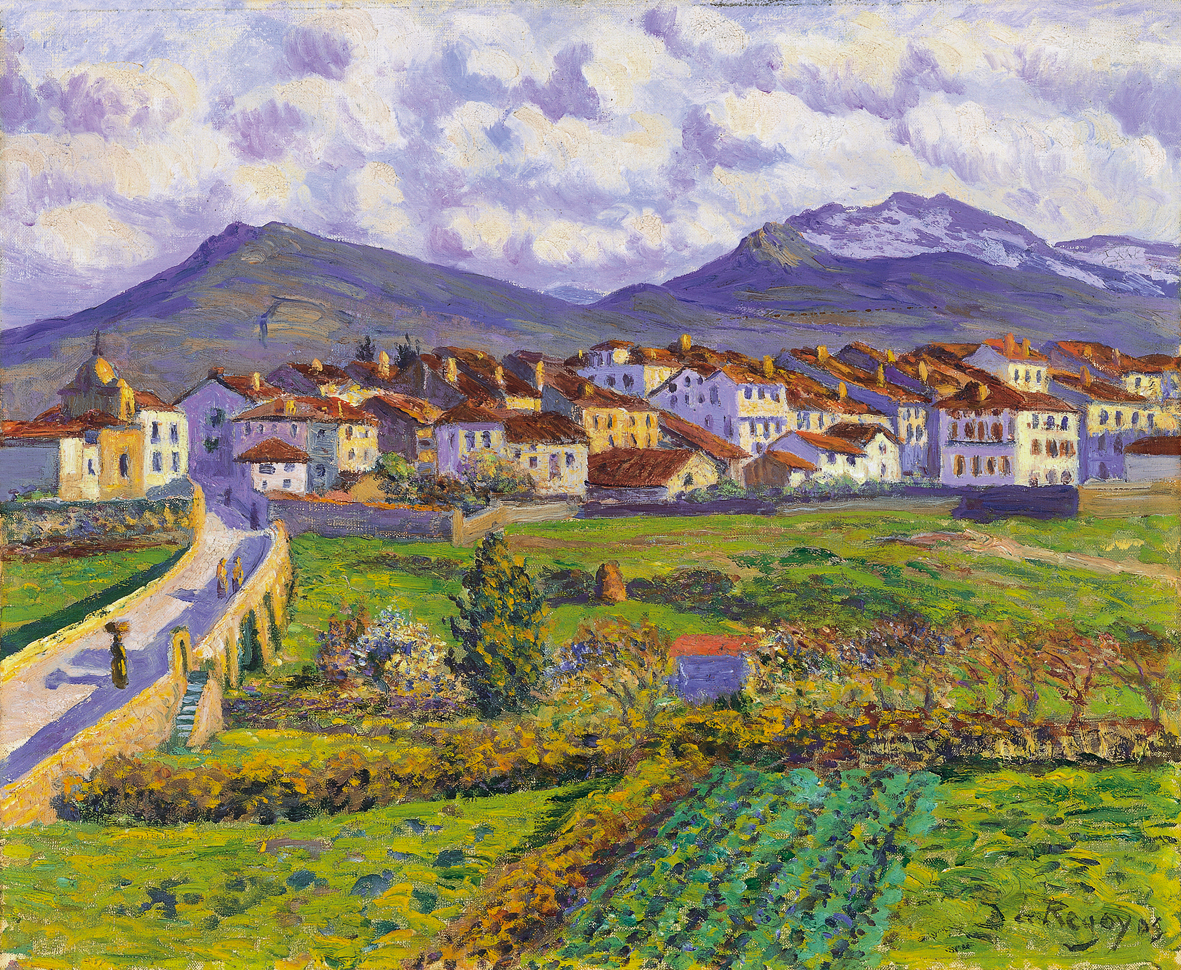 Landscape at Hernani
c. 1900
Oil on canvas

50 x 61 cm

CTB.1995.28

© Colección Carmen Thyssen-Bornemisza en préstamo gratuito al Museo Carmen Thyssen Málaga
Landscape at Hernani depicts a partial panoramic view of Hernani. To the right, but not included here, would be the city's historic quarter, although the old bridge is featured on the left in the foreground. The still snow-capped Mount Adarra in the background suggests that the picture was painted in winter.
Here Regoyos is revealed at his peak, bringing all his mastery to bear on a winter scene in which the dusk is perfectly rendered in buildings and shadows typical of so many of his paintings. As is usual in his compositions, the human figure is inseparable from the landscape, although here only women appear – in scenes from the España negra series, they are generally seen working. Regoyos always depicted the Basque female as a working woman and often a solitary figure.
In the composition of this picture, which was executed from an elevated position, the horizontal lines serve to distribute the pictorial space and the diagonals give further support. Regoyos achieved depth in the landscape by grading the mauve, brown and green tones to obtain a skilful portrayal of light and landscape. This is complemented by a sky full of small masses of cloud filtering the sunlight onto the mountains, which in the process creates a perfect portrayal of the moment depicted.
It is not known whether the painting was exhibited during the artist's lifetime. This seems unlikely, however, as the title does not appear on the stretcher (as was normally the case with Regoyos's works exhibited outside Spain), nor are there any labels with numbers or information testifying to its having been shown in public. It is possible that upon completion it passed into the hands of one of the artist's friends and later to the Salon Delclaux, where, as the purchase invoice indicates, it was reacquired on 28 January 1920 by its previous owner.
Juan San Nicolás